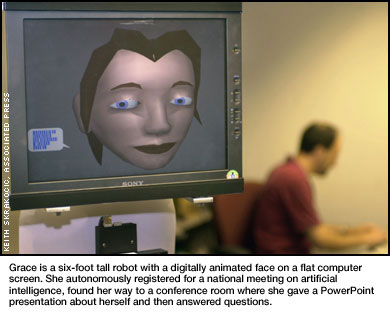 Robotic Achievements:
GRACE Successfully Completes Mobile Robot Challenge at Artificial Intelligence Conference

GRACE (Graduate Robot Attending ConferencE), a six-foot-tall, socially adept autonomous talking robot, successfully completed the mobile robot challenge at the American Association of Artificial Intelligence's (AAAI) national meeting in Edmonton, Alberta, Canada on July 31.

Grace, who attracted international media attention, was developed by a team of researchers from Carnegie Mellon, the Naval Research Laboratory, Metrica, Inc., Northwestern University and Swarthmore College.

The challenge required Grace, which has a digitally animated face on a flat computer screen, to find the registration booth in the Shaw Conference Center, register and find "her" way to the conference room where "she" gave a PowerPoint presentation about "herself" and answered questions.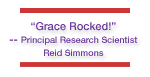 "Grace rocked!" said Reid Simmons, principal research scientist in the Robotics Institute who has been coordinating the project team for the past year. "She completed all her tasks. It took a little longer than we thought, but everything worked in the end. It was a little rough around the edges. There were about 200 people following the robot while she did her thing. It was a phenomenal experience! We exceeded expectations! Everyone is psyched!"
Members of the Grace team include Alan Schultz at the Naval Research Laboratory (NRL), Bruce Maxwell from Swarthmore, Ian Horswill from Northwestern and David Kortenkamp from defense contractor Metrica, Inc.
Carnegie Mellon is the overall hardware and software integration lead on the Grace project. The NRL is in charge of speech recognition and parsing, multi-modal input for speech and gesture and human-robot interaction. Metrica's part is vision-based gesture recognition, people tracking and following. Northwestern's contribution involves enabling the robot to give a talk about itself, and Swarthmore's work involves enabling Grace to read signs, read nametags and to recognize individuals.
Carnegie Mellon students and postdoctoral fellows involved in the project include Dani Goldberg, Brennan Sellner, Chris Urmson, Nick Roy, Adam Goode and Mike Montemerlo. For more information about Grace and the project team visit the Web at www.palantir.swarthmore.edu/GRACE/.
Anne Watzman
(09/06/02)