Master of Arts Management Program to Help Manage Restored Cultural Sites in Italy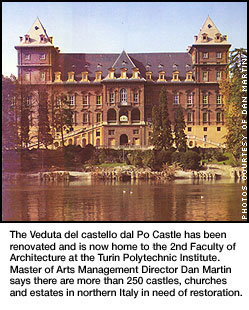 Carnegie Mellon's Master of Arts Management (MAM) program has signed an agreement with three educational institutions in Italy to help restore, utilize and manage historical cultural sites in Italy's Piedmont region.

The MAM program, an interdisciplinary joint program of the H. John Heinz III School of Public Policy and Management and the College of Fine Arts, will work with the University of Bologna's Department of Economics and Management, The Polytechnic Institute of Turin's 2nd Faculty of Architecture and the Fitzcarraldo Foundation in Turin.

"What we signed are commitments to work together on this project," said Dan J. Martin, associate professor and director of the MAM program. "There is much discussion yet to come on research methodology, curriculum development, delivery systems, and the specific responsibilities of each partner institution."

Martin said the Piedmont region in northern Italy is home to more than 250 castles and hundreds of churches, estates and other historically significant sites.

"Many are currently in a state of disrepair, underutilized or decaying," he said. "The communities surrounding these sites do not have the resources to restore them to their proper condition and sustain them. In addition to the restoration and protection of these sites is the issue of what can and should be done once they are restored."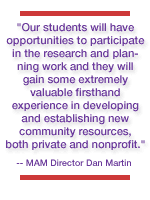 The heritage sites, given their cultural importance and central location in each community, lend themselves to uses as museums, conference centers, community centers, restaurants and performing arts centers. But, Martin noted, the critical issue will be the cooperation among the various sites, as they exist in a fragile and somewhat crowded economic, social and cultural ecology.
"Many of them are just a few miles apart," he said. "You can stand on a hillside courtyard of one site and, looking out across the valley, see a half-dozen or more just like it."
Identifying the community and economic development opportunities and challenges will be a vital part of the process. Whatever eventually is established within these sites must be woven into the fabric of each local community.
"We cannot impose an initiative on a community or group of communities; the solutions must emerge from careful study, community participation, communication and planning," Martin said.
The partners bring a variety of experience and expertise to the venture.
The Polytechnic Institute's 2nd Faculty of Architecture, one of Italy's leading architecture programs, will focus its energy on the restoration of these sites. The Fitzcarraldo Foundation, a private research, training and consulting organization highly regarded for its groundbreaking research on the cultural industries in Piedmont, will investigate the various collaborative and business opportunities and challenges. Bologna's Economics and Management faculty, recognized as one of Italy's best management schools, will work with the MAM program to provide the management training for those organizations that eventually will occupy the sites.
The MAM program will also tap the intellectual resources of the Heinz School's economic and community development faculty for contributions to this project.

"This is just the kind of synthesis of interests, expertise and services that the Heinz School seeks to develop," said Professor Jeffrey Hunker, dean of the Heinz School. "Not only does this Heritage Site project open the door to creative partnerships among the school's research and service interests, but it will allow the students to gain a better understanding of and appreciation for the interdependence and multidimensional nature of these operating spheres."
The agreement also allows for the exchange of faculty, students and researchers among the three partners. Martin believes this venture has the potential to enrich the MAM program's Pittsburgh-based efforts.
"Our students will have opportunities to participate in the research and planning work and they will gain some extremely valuable firsthand experience in developing and establishing new community resources, both private and nonprofit. In addition, they will be exposed to alternative cultural structures and systems."
This partnership emerged from a working relationship Martin has with Ugo Bacchella, president of the Fitzcarraldo Foundation, who has been studying the plight of heritage sites for several years. Bacchella and Martin are colleagues on the faculty of the International Summer Academy of Arts Management, a two-week seminar program in Salzburg, Austria.
The Italian partnership is the MAM program's third international connection to date. For the past four years, the MAM program has been a co-sponsor of the International Summer Academy for Cultural Management (ISAK) in Salzburg. ISAK, coordinated by the International Center for Culture & Management, is an intense, two-week seminar designed primarily for artists and arts managers from Russia and eastern and central Europe who are struggling to realize their arts projects under the free-market economic system. They receive training on budget and finance management, project management, fundraising, marketing and international collaboration.
Two years ago, the MAM program began offering arts management seminars in Greece in partnership with the Hellenic American Union (HAU). Response to the seminars in Athens has been strong and HAU officials and Carnegie Mellon administrators are working on the development of a formal certificate program in arts management. HAU and the MAM Program hope to begin offering regularly scheduled seminar courses in October 2003.

(09/06/02)