Information Law Expert Named Vice President, General Counsel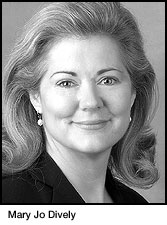 Mary Jo Dively, a partner at the law firm Reed Smith and a nationally recognized expert in information law, has been appointed vice president and general counsel. Dively joined the university on September 1.
"Mary Jo Dively is a great match for Carnegie Mellon University. As an acknowledged leader in the field of information law and its many aspects, her expertise will enable her to make significant contributions to the university," said President Jared L. Cohon.
For the past nine years, the university's legal counsel has been provided by the law firm of DeForest & Koscelnik (now DeForest Koscelnik & Yokitis.) Dively's appointment as general counsel and vice president recognizes the complexity and growth of the university as a leader in education and research.
"We thank Walter DeForest and Jackie Koscelnik for their years of counsel and advice. They have been great advocates and advisors to us," Cohon said.
While at Reed Smith, Dively led the establishment of the firm's new practice group in Technology, Media and Communications. She lectures frequently on legal issues affecting electronic commerce and information law and is an active member of the American Bar Association's committees addressing those issues. Prior to joining Reed Smith, she worked for Klett Rooney Leiber & Shorling.
"Carnegie Mellon is fortunate to have such a talented attorney in Mary Jo, and although we will miss our daily contact with her, we are excited about continuing to work with her as a client. We wish her great success as she enters this new phase in her career," said Reed Smith Managing Partner Greg Jordan.
An active volunteer in the Pittsburgh community, she has been a member of the Children's Hospital Board of Trustees since 1994 and currently is the board chair. As a member of the Children's board, she led the hospital's strategic planning effort and took the hospital through its recent merger with the University of Pittsburgh Medical Center. She also is a member of the UPMC Health System Board of Trustees and its executive and information technology committees.
"I am honored to join an institution that has had a special importance for Western Pennsylvania since its founding, and has in recent years been acknowledged as one of the world's leading universities," Dively said.
She is a graduate of the Vanderbilt University School of Law. A Kansas native, Dively earned undergraduate degrees in English and journalism from the University of Kansas.
Dively is a resident of the Fox Chapel neighborhood. She and her husband, Lane, are parents to seven-year-old triplet boys who are impressed that their mom "will be working with the foremost robotics experts in the country!"
Teresa Thomas
(09/06/02)