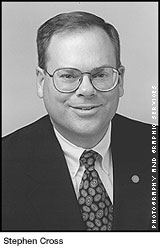 Stephen Cross has been reappointed to a second five-year term as director and chief executive officer of Carnegie Mellon's Software Engineering Institute (SEI), a federally funded research and development center sponsored by the U.S. Department of Defense (DoD).
"Steve Cross has done a tremendous job during the five years in which he has served as SEI director," said Provost Mark Kamlet. "I commend Steve for his accomplishments, and I am very grateful that he has been willing to serve in this dean's-level position for five more years."
Kamlet called the SEI one of the "crown jewels" of the Carnegie Mellon community.
Under Cross' leadership, the SEI's CERT Coordination Center (CERT/CC), the nation's first and best-known computer emergency response team, has gained worldwide recognition for excellence in network security, spawning nearly 100 other CERTs worldwide and becoming the centerpiece of an ambitious and influential SEI program in network survivability.
Kamlet praised Cross for his success in streamlining SEI's organizational structure, improving its operations and increasing its revenue.
Cross was featured in the Jan. 4 BusinessWeek Online (http://www.businessweek.com/print/technology/content/
jan2002/tc2002014_6757.htm?mainwindow) as one of the "Gurus of Tomorrow's Tech" (see Carnegie Mellon Faculty and Researchers in the news).
"We have a world-class staff... who have had tremendous impact on the state of software engineering worldwide since 1984," Cross said. "As the importance of software to the U.S. economy and national defense continues to increase, I look forward to five more exciting years of excellence and impact."
Bill Pollak
(02/05/02)