Cheering the Faculty Chairs
More than 40 senior faculty who received full professorships through the recent Centennial Campaign were honored and presented with miniature resin chairs at a reception on Jan. 16. The campaign raised more than $410 million overall, including $165 million to create more than 70 endowed professorships. Above, Provost Mark Kamlet (center) and Vice President for University Advancement Robbee Baker Kosak (right) congratulate Raj Reddy, the Herbert A. Simon University Professor of Computer Science and Robotics.



In the middle photo, President Jared Cohon presents a chair to Linda Babcock, the James Mellon Walton Professor of Economics at the Heinz School. The resin chairs were designed by Tom Merriman (right), senior lecturer in the School of Design. Professorship donors were also given artwork by Merriman and fine arts professors Carol Kumata and Bruce Lindsey. Donors to other designations were given artwork by professors Doug Cooper and Joe Mannino, and artist Erika Bonner.



Christiano's Locker Retired

Vice President for Enrollment Bill Elliott, a member of the group of faculty and administrators who regularly play racquetball and work out in the University Center around 6 a.m., poses next to the locker of the late Provost Paul Christiano. The group, of which Christiano was a member, recently retired Christiano's locker and mounted a plaque with the inscription: "Paul P. Christiano, May 12, 1942 - June 21, 2001, Loyal Son of Carnegie, His heart was in the work, Good friend... and master of the corner shot."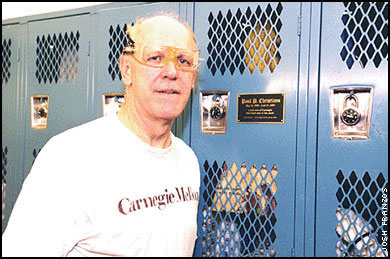 Bruce Gerson
(02/05/02)