The Mellon Pitt Carnegie Corporation (MPC), a joint venture of Carnegie Mellon University and the University of Pittsburgh, has appointed Donald F. Smith Jr. to the newly created position of vice president of economic development.
Smith will coordinate economic development activities between the two universities, leveraging their international strengths in engineering and the sciences, including medicine and other health sciences.
Smith will support technology commercialization and entrepreneurial activity at Carnegie Mellon and Pitt and act as a liaison for the universities' technology transfer, corporate relations and sponsored research departments.
He is also charged with identifying, cataloging and coordinating economic development resources and initiatives across the universities and will also collaborate with regional economic development organizations.
Smith has a highly successful track record. He has been Carnegie Mellon President Jared Cohon's special assistant for economic development since 1988, and since 1995 has served as director of the Center for Economic Development at the Heinz School, where he has led the school's economic development curriculum.
During his tenure at Carnegie Mellon, Smith has played a significant role in many of the region's major economic development initiatives. He was a principal architect of the Pittsburgh Digital Greenhouse, a consortium of industry partners and universities devoted to developing the "system-on-a-chip" design industry in southwestern Pennsylvania. He has also played a critical role in the creation of a strategic plan for a Life Sciences Greenhouse, an effort that focuses on making the region a global leader in the field of biotechnology.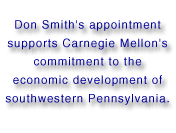 Smith, who is also vice chairman of the Redevelopment Authority of Allegheny County, has served as interim president of the Digital Greenhouse and is now secretary/treasurer of the Life Sciences Greenhouse.
"I congratulate (University of Pittsburgh) Chancellor (Mark) Nordenberg and (Carnegie Mellon) President (Jared) Cohon on this unprecedented collaboration," said Pennsylvania Governor Mark Schweiker. "The dynamic partnership between these two outstanding Pennsylvania institutions has been at the heart of the success of our Digital Greenhouse initiative and the promise of the Life Sciences Greenhouse.
"By working even more closely together, the University of Pittsburgh and Carnegie Mellon University will help ensure that the future is invented right here in Pennsylvania. I am also extremely gratified that this effort will be headed by Don Smith, who has been a vital partner in shaping the most aggressive state technology agenda in the nation," Governor Schweiker said.
"It is unusual, and perhaps unique, for two world-class universities to collaborate through a shared economic development position like Don's," Cohon said. "The University of Pittsburgh and Carnegie Mellon are committed to leveraging our complementary strengths in life sciences and information technology in order to position our region as a national research and corporate center in these growing fields."
"We are enthusiastic about this initiative that brings Pitt and Carnegie Mellon closer as partners in economic development," Nordenberg added. "Our excitement is directly related to our strong commitment to western Pennsylvania and to our shared belief that by working more closely, the universities can have an even more dramatic impact on the economic health of our home region. Our enthusiasm also is the product of the deep respect we have for Don, as he is uniquely positioned-because of his experience, commitment, and character-to effectively lead it."
Smith said he was excited to begin working for two "world-class universities."
"This is a very exciting opportunity, since no one else in economic development in America will be able to draw upon the breadth and depth of academic resources that are represented by these two world-class universities," Smith said. "I am looking forward to applying my education and experience to help Mark and Jerry implement their visions of an even greater role for the universities in the region's economy."
Smith began his career as an intern with the Scranton Plan, the industrial development arm of the Greater Scranton Chamber of Commerce.
After earning his bachelor's degree in economics with honors from Harvard University, Smith became a strategic projects coordinator at the Pennsylvania Department of Commerce and was the lead analyst for the state's economic development strategy, Investing in Pennsylvania's Future.
After receiving his doctor's degree in public policy from the Heinz School in 1994, Smith accepted a position with RAND's Critical Technology Institute in Washington, D.C., where he was a technology policy analyst specializing in the financing of new technologies and the development of regional technology clusters. In 1995, Smith returned to Carnegie Mellon to direct the Center for Economic Development and teach economic development.


Kyle Fisher Morabito and John Fedele (University of Pittsburgh)
(02/05/02)