---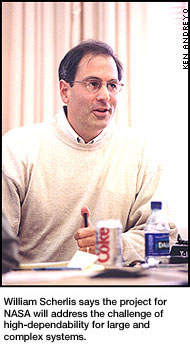 SCS Gets $23 Million
From NASA
Researchers to Lead Development of High-Dependability Computing Program for NASA Software

NASA's Ames Research Center at Moffett Field, Calif., in the Silicon Valley, has agreed to award $23.3 million to Carnegie Mellon's School of Computer Science to lead the development of a multi-disciplinary, multi-institutional High-Dependability Computing Program (HDCP) to improve NASA's capability to create dependable software.

The incremental, five-year, cooperative agreement is part of a broad strategy for dependable computing that links Carnegie Mellon, NASA, corporate partners and other universities. Carnegie Mellon experts will collaborate with NASA scientists and researchers from the Massachusetts Institute of Technology, University of Maryland, University of Southern California, University of Washington and the University of Wisconsin to measure and improve the dependability of NASA's systems. More..