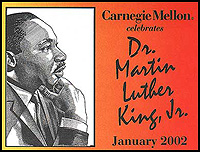 Entries Sought for Martin Luther King Writing Awards

The English Department's Creative Writing Program is seeking entries from Carnegie Mellon students and Pittsburgh-area high school students for its third annual Martin Luther King Jr. Day Writing Awards.

Awards will be given in two categories, prose (fiction and nonfiction) and poetry. Prizes will be $100, $50 and $10 for first-, second- and third-place in each category. Students of all races and ethnic backgrounds are encouraged to submit their work.

English Professor Jim Daniels, founder of the awards program, said entries should be personal narratives dealing with individual experiences with racial difference and discrimination, or personal reflections on race thatrely on concrete detail.

The deadline for entries is Friday, Dec. 7. All entries should be accompanied by a cover sheet with the title of the work, the category, the student's name, his/her school, address, email address or phone number.

Entries should be sent to Jim Daniels, English Department, Baker Hall 259. Entries can also be submitted electronically to jd6s@andrew.cmu.edu.

Winners will be invited to read their work and receive their award during Carnegie Mellon's Martin Luther King Jr. Day Celebration on Monday, Jan. 21. For more information call 412-268-2842.