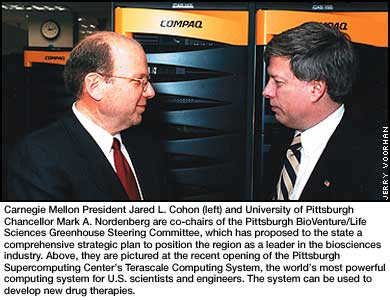 BioVenture/Life Sciences Greenhouse Aims to Develop Bioscience Industries
10-Year Plan Submitted to State Will Build Upon Region's Strengths in Medicine, Technology
Leaders of the Pittsburgh region's health care and bioscience industries, economic development organizations and local government have united with Pittsburgh BioVenture, a biotechnology planning effort launched by Carnegie Mellon and the University of Pittsburgh last spring, to release a 10-year strategic plan to position the region as a global leader in the bioscience industry.

The prospectus was submitted to the Commonwealth of Pennsylvania as southwestern Pennsylvania's request for funding for the development of a Life Sciences Greenhouse, one of three authorized by legislation signed into law in June 2001. The prospectus embeds the region's Greenhouse in a comprehensive regional economic development strategy, which incorporates Pittsburgh BioVenture.

The plan was modeled after the successful Pittsburgh Digital Greenhouse, a consortium of electronic chip designers and manufacturers that was recently established. More..