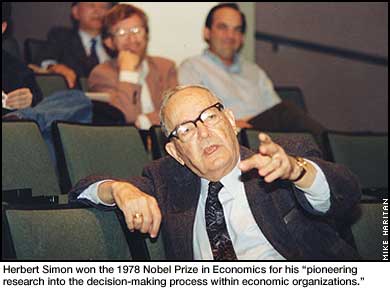 Simon Memorial Fund Established
The Herbert A. Simon Memorial Fund has been created in memory of the late Nobel Laureate and University Professor Herbert A. Simon. At the request of Dr. Simon's family, memorial gifts will be directed to The Dorothea P. and Herbert A. Simon Scholarship Fund for undergraduates in all disciplines and the Simon Archives Project.
The archives project will process, organize, preserve and digitize Simon's work and will complete and maintain the Artificial Intelligence Web site.
Simon, who died Feb. 9, 2001, greatly influenced Carnegie Mellon across many disciplines. He played key roles in the formation of several university departments and schools including the Graduate School of Industrial Administration, the School of Computer Science and the College of Humanities and Social Sciences' Psychology Department. He was instrumental in the development of Psychology's internationally renowned cognitive science group.
Recognized as one of the founders of the field of artificial intelligence, Simon won many international scientific awards, the most prominent being the 1978 Nobel Prize in Economics for his "pioneering research into the decision-making process within economic organizations."
His research ranged from computer science to psychology, administration and economics. The thread of continuity through all of his work was his interest in human decision-making and problem-solving processes and the implications of these processes for social institutions.
Memorial contributions payable to Carnegie Mellon University may be forwarded to Gordon Gordon, Office of Planned Giving, Carnegie Mellon University, Warner Hall, 5th Floor, 5000 Forbes Avenue, Pittsburgh, PA 15213. Direct questions to Gordon at 412-268-2017 or gg23@andrew.cmu.edu.

(12/05/01)