A moving Service of Remembrance was held in Kresge Theatre during Homecoming Weekend to honor, remember and pay tribute to the six Carnegie Mellon alumni who were victims of the Sept. 11 attacks on America.
The six victims were Frederick Kuo (E'69), Alan Linton (IM'97), Jonathan Uman (IM'90), Lawrence Kim (HS'97), Norma Lang Steuerle (HS'69) and Matthew Yarnell (HS'97).
Kuo and Steuerle are confirmed dead. Linton, Uman, Kim and Yarnell are still reported missing.
At the conclusion of the service a yellow poplar tree, also known as a Pennsylvania native tulip tree, was dedicated near the tennis courts in memory of the six alumni.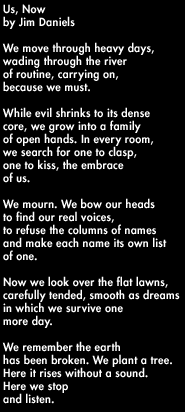 At the tree dedication ceremony, President Jared L. Cohon read "Us, Now" (far right), a poem written by English Professor and poet Jim Daniels, and senior voice major Joseph Haughton sang the alma mater.
Following the alma mater, each participant in the service, which included members of the Kim, Kuo and Linton families, placed a rose at the base of the tree. The rose signifies "love and respect" said Jennifer Neubauer, assistant vice president for alumni relations.
Lawrence Kim
Kim started his career with Time-Warner before becoming a chief technology officer for a dot.com company. He was in his office at Marsh McLennan Companies of New York on the 97th floor of One World Trade Center on Sept. 11.
Kim's father, Don, said he was proud to be a Carnegie Mellon graduate and truly loved the campus.
"According to his family and friends, Lawrence was a generous and loving person, and always available to help a friend or colleague," said John Lehoczky, dean of the College of Humanities and Social Sciences. "He will be missed by all of us."
Kim's family has established the Lawrence Kim Memorial Fund for undergraduate scholarships.
Fred Kuo
Kuo, a mechanical engineering graduate was a specialist in the technology of power plants for Washington Group International on the 91st floor of the World Trade Center. He is survived by his wife, Teresita, and four grown children.
College of Engineering Dean John Anderson said Kuo was at his desk when the second airplane hit tower number two. "Fred had urged his colleagues to leave immediately when the first plane hit, but stayed behind to call his wife, Teresita," Anderson said. "They would have cele-brated their 30th wedding anniversary this week (mid-October.)"
Anderson said Kuo was a devoted member of his church in Great Neck, N.Y., where he played a role uniting different segments of the community.
"According to his wife, Fred always said he is 'half-Chinese, half-Filipino, but all American, because this is where he grew up," Anderson said.
Alan Linton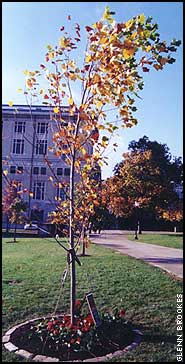 Linton, who worked for Sandler O'Neill Partners, was known by faculty and classmates "for his talent, intensity and loyalty," said Graduate School of Industrial Administration Dean Douglas Dunn. As a senior he was a member of a student team that took second place in a national business competition held in Austin, Texas.
"While a strong and assertive leader, Alan was also a thoughtful and supportive colleague for other students in the university and the industrial management community," said Claudia Kirkpatrick, former director of the undergraduate business program. "His presence made the intellectual life of the department a richer one for all."
Norma Lang Steuerle
Steuerle died aboard the plane that crashed into the Pentagon. She was on the first leg of a trip to Thailand to visit her husband, Gene, and her eldest of two daughters, Kristin, a Navy physician in Okinawa. Gene Steuerle is a senior fellow at the Urban Institute in Washington, D.C.
Lehoczky said Steuerle earned her bachelor's degree in psychology and went on to build a successful career as a clinical psychologist.
"Described as a woman of keen intellect, deep religious conviction and vivacious humor, Norma had a way of translating complicated ideas into words anyone, even children, could understand," Lehoczky said. "She had a gift for making people feel instantly at ease."
Jonathan Uman
Uman was corporate head of development, mergers and acquisitions at E-Speed, an electronic trading subsidiary owned by the firm of Cantor Fitzgerald on floors 101-105 of the World Trade Center. As a student he was very active as a member of the crew team, Scotch 'n' Soda, the Thistle and Delta Upsilon Fraternity.
"As a student, Jonathan was a person with enormous presence and flair," Kirkpatrick said. "He was a person whose presence was unmistakable-gracious, positive and commanding."
President Jared L. Cohon said Uman's father remembered their first visit to Carnegie Mellon. His father said he offered to buy Jonathan a Porsche if he attended the University of Connecticut, but he chose to attend Carnegie Mellon. His father said he and Jonathan recently took a ride in a new Porsche Jonathan had purchased.
Uman is survived by his wife, Julie, who has founded the Jonathan J. Uman Foundation.
Matthew Yarnell
Yarnell was an assistant vice president for Fiduciary Trust on the 97th floor of the World Trade Center. Before taking the elevator to his office he kissed his girlfriend, Angela, in the lobby. They had been talking about marriage.
Yarnell's father, Ted, told Lehoczky, "I am sorry for Matt . . . for his life to have been taken so abruptly before he had a chance to experience all of the wonderful things his future might have held. I am sorry for Lindsey, Brian and Jessica, for being deprived a brother. I am sorry for his friends, and for the thousands of other lives that have ended so tragically. And for their families and friends, who grieve as we do. And I am sorry there is hatred in this world, capable of catalyzing such a tragedy."
Bruce Gerson
(11/07/01)