Twenty-seven individuals and nine teams were nominated for this year's Andy Awards, the university staff recognition program named for Andrew Carnegie and Andrew Mellon that honors individuals and teams in four categories: dedication, enthusiasm, innovation and citizenship.
In a ceremony in McConomy Auditorium on Oct. 17, Nick Salakas, senior sales associate for Entropy, received the Andy Award for Dedication. Dennis Cosgrove, research programmer for the Human Computer Interaction Institute, earned the award for Enthusiasm.
The Research Administration Training and Development Creators, Elizabeth Fox of the College of Fine Arts and Donna Marano of the Civil and Environmental Engineering Department, earned the award for Innovation. The Citizenship Award went to The Household Hazardous Waste Day Team of Melissa Burik (team leader), Carole Wilson, Robert Anderegg, Mark Banister, Barbara Kviz and Pamela Snyder.
Enthusiasm
Dennis Cosgrove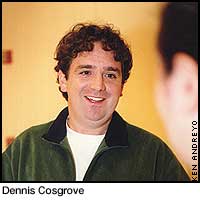 "Before I knew Dennis I believed that pure altruism was a myth," says Professor Randy Pausch, director of the Stage 3 Research Group. "After 10 years I conclude that there is at least one person who works 100% of the time for the benefit of others. Even in the most demanding circumstances, Dennis maintains an absolute focus, dedication and good cheer that infects the lab on a daily basis."
"Dennis' most important trait," says Research Programmer Jason Pratt of the Human Computer Interaction Institute, "is his constant role as a team player. Dennis is much more likely to go to great lengths in order to make someone else's work look good than he would ever be to make his own projects shine.
"In collaborative efforts," he adds, "Dennis keeps his own focus and the group's focus firmly on the goal at hand and always makes sure that everyone's talents are being used for the greatest good of the whole."
Pratt notes that Dennis "clocks countless hours in the lab, often working on several projects at a time. Despite his divided attention, no project is neglected in favor of others and each line of work is carried out with a great amount of care and thoroughness that would be admirable even if someone were working on a single project. . . . The reason Dennis finds himself so often called upon to divide his time is because of all the different people that rely on his irreplaceable skills."
Dedication
Nick Salakas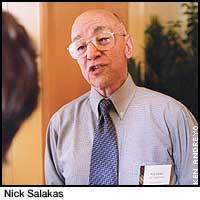 In her letter of nomination for Nick Salakas, Barbara Fath, assistant buyer, University Shoppe, said "dedication is something that comes very naturally to Nick. As an employee, he ranks among the top, and any employer would consider him a true asset.
"Nick has been a dedicated employee of Carnegie Mellon for 14 years. During this time he has worked at Entropy as a senior sales associate and student supervisor. For the first 10 of these years he worked the 7 p.m. - 3:30 a.m. shift.
"He never failed to show up for that late night shift, keeping the store open when no one else would-during blizzards, power outages and unbearable heat. No matter the barrier, Nick consistently kept the store open for the students' convenience. . . . Even after his shift was over and the store was closed, he would remain for another hour or so to restock the store for the following shift, guaranteeing the students and staff would have the products they needed to start the day."
Patricia Stacer, director of campus services, agrees. "Nick is strongly focused on maximizing customer satisfaction and creating an efficient and effective work environment. . . . He is a role model for the new associates and for the students.
"His dedication to Entropy, the students and co-workers is identified in his work ethic. . . . Nick schedules all his vacations around the academic calendar. He takes his vacations during the mid-semester or spring breaks when the store hours are reduced, or after commencement, so there is little impact for his co-workers. By doing this, his vacation will not require a co-worker to cover his late evening hours."
In her supporting letter Stacer said Salakas has offered to work by himself the Sunday after Thanksgiving so the returning students can get groceries and a split shift until 3 or 4 a.m. during Spring Carnival so that the students will be able to get hot coffee while building their booths.
Innovation
Donna Marano and Elizabeth Fox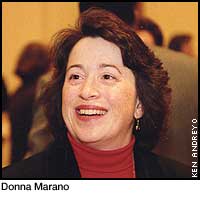 The volume of the university's research has grown significantly, at a time when "the rules and regulations governing the spending and administration of research monies have become more complex," says Patricia Laughlin, associate dean, Carnegie Institute of Technology. "Much of the responsibility for oversight transactions falls on the business managers in the units where the research is performed. These business managers have felt the pressure for more information and guidance in research administration. Donna Marano and Liz Fox devised a plan to deliver that information in a concise and useful way.
"The plan created by Donna and Liz had two overlapping initiatives. First, they benchmarked training efforts at other institutions and proposed the creation of a Research Administration Council (RAC) to provide a forum for emerging issues in research administration. Secondly, in less than a year, Donna and Liz mobilized many different individuals and offices, gaining the financial and campus-wide support needed to begin a formal training effort for business managers who have research administration responsibilities," Laughlin said.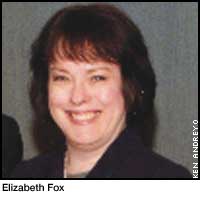 Ron Placone, director of learning and development, agrees. "Liz and Donna recognized the increasing complexity in research administration and the growing need for timely communication and effective training. . . . The results of their efforts have been outstanding."
The RAC meetings have averaged 60 attendees "representing every part of our campus community and the training programs have been extremely well received," Placone said.
"Research administration is a complex area of ever-changing rules and federal guidelines," says Associate Provost Susan Burkett. "New announcements and rule changes are made at least quarterly by some federal agency or the other. It is nearly impossible for one person in an isolated department to be aware of, much less track, the changes and their impact on the university research program.
". . . Using experts on campus, and much of their own time and expertise, Donna and Liz have spearheaded the development of a series of courses . . . and have also identified nationally produced live video conferences offered by the national research organizations and offered them on campus to supplement our in-house program. I doubt there is an opportunity or course offered anywhere that they have not evaluated for use on our campus."
Citizenship
Household Hazardous Waste Day Team

The Household Hazardous Waste Collection Day was organized with the enthusiastic cooperation of the Pennsylvania Department of Environmental Protection. It taught the university community about the proper disposal of hazardous waste.
"I believe the Household Hazardous Waste Day Team, headed by Melissa Burik, showed exceptional leadership and innovation in planning and carrying out the activities to allow Carnegie Mellon employees to dispose of household hazardous wastes in an environmentally friendly manner," says Duane Adams, vice provost for research. "The event was a significant undertaking that required extensive coordination with Carnegie Mellon and several agencies within the community."
Jeff Bolton, vice president for business and planning and chief financial officer, says the team disposed of "over 18,000 pounds of materials . . . that were recycled and disposed of in an environmentally sound manner." They took on "a tremendous amout of initiative (and hard work) . . . above and beyond their normal workload."
Professor David Dzombak, Civil and Environmental Engineering, praised the team for volunteering "more than half a weekend to prepare the Morewood parking lot for the event, to direct and answer questions of participants on the day of the event, and to take down the traffic-routing barriers in the Morewood lot after the event. Their commitment and enthusiasm despite the cold weather was inspiring."
Dzombak emphasized that "the print and television coverage of the events also helped educate the broader community about the issue of hazardous household waste."
Edmund Delaney
(11/07/01)