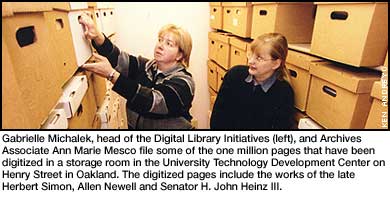 University Libraries the First to Digitize One Million Pages
Carnegie Mellon's University Libraries has become the first library in the world to digitize one million pages of primary source material and make it available to scholars on the Web.
Comprising the one million pages are published and unpublished works of Nobel Laureate Herbert A. Simon and computer scientist Allen Newell, considered to be the "the fathers of artificial intelligence;" and Senator H. John Heinz III. The three men's collected lifeworks, which include correspondence, project reports, teaching materials and other papers such as the handwritten notes on many documents, are viewable online in full text and completely searchable using natural language processing.
Although other sites may host digital collections or provide links to digital resources that cumulatively equal or exceed one million pages, Carnegie Mellon is the first to digitize and manage one million archival pages. The digitized collections are highly significant, forming a unique part of the national culture and international intellectual heritage.
"We are celebrating exponentially increased access to unique primary source material, which will save students and scholars all over the world time and money traveling to use physical archives," said Denise A. Troll, associate university librarian for arts, archives and technology. "We have developed standards, best practices and technology that will enable libraries and archives to create, manage and migrate digital collections in the future."
Troll said the pages were migrated from Claritech's HELIOS system to the Digital Information Versatile Archive (DIVA) system because the HELIOS software had become obsolete and was unsupported.
"This migration demonstrates that one of the potential problems threatening digital libraries can be solved," she said. "Using standards makes it possible to preserve digitization efforts and move documents to new systems as technology becomes obsolete and platforms change. Carnegie Mellon's success with this project is a triumph for computer scientists, archivists, librarians and preservationists, and a boon for scholars everywhere."
DIVA was developed with University Libraries funding. The federal Institute of Museum and Library Services grant, which provided additional support for the digitization of the Newell and Simon collections, funded a partnership among the University Libraries, the School of Computer Science, and The Carnegie Museum of Natural History to create "Smart Web Exhibits."
Cindy Carroll and Lynn Smith
(11/07/01)