Blackboard System Update
Recently, we installed system updates necessary for maintaining the stability and security of the system. If you would like help with your Blackboard course, please contact bb-help@andrew.cmu.edu.
NOTE: When you first login, you will notice an initial screen, imposed by Blackboard, Inc., that allows you to review a few of the settings. Once you hit the "Close" link provided, this screen will not reappear.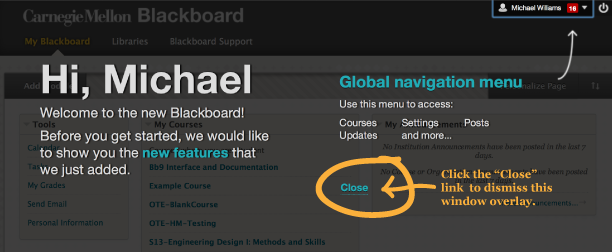 Instructors: As part of the system updates, Blackboard, Inc. has included an enhancement to the interface visual design. We want to make you aware that the changes in the user interface are almost entirely visual/skin. The position of your menus and content areas remains the same. The functionality is also the same. Within the content areas, however, the arrows for selecting functional menus will be visible only upon rollover.