Blackboard slowness with Windows 10
We have received reports of slowness with Blackboard and the latest versions of Windows 10 (Version 1703: Build 15063.13). We are working to resolve this but, in the meantime, recommend users avoid installing the update before they have completed their Spring semester coursework on Blackboard.
Canvas Migration
Starting Summer 2017
Beginning the Summer 2017 semester, all instructors will have the ability to request a Canvas site for their courses. To request a Canvas site, use the Course Request Form.
For more information about the migration, visit our Canvas website.
Enroll a TA Manually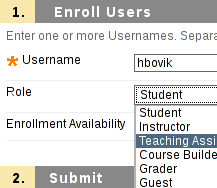 From the "Control Panel", select "Users and Groups" > "Users".
Click "Enroll User" > "Find Users to Enroll".
Enter the TA's Andrew ID under Username and change the role dropdown to "Teaching Assistant".
Click "Submit".
Additional Support Topics
Blackboard 9.1

Teaching

Other Support Places