Financial Highlights from Angela Blanton, Vice President for Finance and Chief Financial Officer
I am pleased to present Carnegie Mellon University's audited financial statements for fiscal year ended June 30, 2017. As Carnegie Mellon continues to transform society and carry out our Strategic Plan 2025 goals and priorities, we are proud to highlight significant accomplishments that allow the university to maintain and expand its influential role in the region, nation and world through continual innovation in education, research, creativity and entrepreneurship.
Attracting and Retaining Outstanding and Diverse Talent
At Carnegie Mellon University, a diverse group of researchers, scholars and artists work at the intersection of technology and humanity, undertaking ambitious projects to solve real-world problems. Bringing world-class talent from diverse backgrounds allows CMU to stay on the cutting edge. Building on that diversity, we also need to cultivate the environment and develop the resources that empower all members of the CMU community to succeed.
The Presidential Fellowships and Scholarships program provides critical financial support to attract and retain outstanding undergraduate and graduate students, regardless of economic circumstances. These endowment funds and committments support current and future classes of Presidential Fellows and Scholars across all seven CMU schools and colleges.
In addition, Carnegie Mellon is shaping the future of health care through UPMC endowed professorships in statistics, artificial intelligence, machine learning and data analytics. The financial support in these areas continues nearly three decades of UPMC investment in CMU, allowing professorships such as these to make significant and life-changing research possible at the university.
Applying Innovative Approaches to Teaching and Learning
Through our strengths in learning science and technology-enhanced learning, we are also leading the way through 21st century education and ensuring that CMU continues to offer a truly distinctive educational experience for our students.
Nearly a year ago, we officially launched the Swartz Center for Entrepreneurship, a system of programs and activities that offers a unique path of entrepreneurship education, engagement, collaboration and opportunity. The Swartz Center creates a truly transformative learning experience with support from a $31.0 million gift, pledged in fiscal years 2014 and 2015, by venture capitalist James R. Swartz.
CMU and ANSYS broke ground in October 2016 for a maker ecosystem building that will become the hub of the College of Engineering's undergraduate program and will promote multidisciplinary collaboration between students, faculty and ANSYS professionals. The university continues to invest in capital additions, with $77.3 million added to construction in progress since June 30, 2016, primarily due to $61.5 million in additional construction spending during fiscal year 2017 on the David A. Tepper Quadrangle project.
In November 2016, CMU received $10.0 million from K&L Gates to establish the K&L Gates Endowment for Ethics and Computational Technologies, which aims to study ethical issues posed by artificial intelligence.
In January 2017, PwC U.S. and Carnegie Mellon University announced the establishment of the Risk and Regulatory Services Innovation Center in the Heinz College of Information Systems and Public Policy, to advance how businesses use technology to solve organization-wide issues and address compliance requirements. PwC invested an initial $11.0 million into the new center with potential funding reaching up to $31 million over five years.
Building Excellence across the University
By leveraging our historic strengths at the intersection of technology and humanity, we look to build excellence across all fields of study, including science. The future of science at CMU depends on cultivating an innovative environment that nurtures foundational discoveries and catalyzes novel research beyond the boundaries of traditional fields.
In January 2017, the U.S. Department of Defense awarded the Advanced Robotics for Manufacturing Institute (ARM Institute), a nonprofit venture led by Carnegie Mellon, a contract to launch an advanced robotics manufacturing institute in Pittsburgh. This puts Pittsburgh and CMU at the center of a new wave of manufacturing, leveraging artificial intelligence, autonomy, 3-D printing and other emerging technologies.
In October 2016, President Barack Obama visited Carnegie Mellon University for The White House Frontiers Conference. The conference, co-hosted by CMU and the University of Pittsburgh, was a high-profile gathering of 700 national thought-leaders on-campus and nearly 7,000 more online and included discussions about building America's capacity in science, technology and innovation.
Enhancing the CMU Experience
In keeping with CMU's commitment to providing a world-class education for students in a productive, nurturing environment, a campus-wide Task Force on the CMU Experience developed recommendations to further enhance our community for students, faculty, staff and alumni. Recommendations include: programming for a new health and wellness center, campus infrastructure and professional development for faculty and staff.
The UPLift Challenge, which launched in fiscal year 2017, invited students, faculty and staff to submit innovative and creative ideas for experimental and temporary campus infrastructure projects, renovations or installations to enhance the Pittsburgh campus community. A faculty-staff-student committee was tasked with selecting the best ideas from nearly 60 proposals. The university will fund up to $20,000 per project executed in the 2017-18 academic year.
The initiatives, partnerships and research highlighted in this letter contributed to a fiscal year filled with change, growth and excitement for all who attend, support, collaborate or engage with CMU. We are evolving and elevating our institution to new frontiers while maintaining what we have always done best  — transforming our community, our society and our world.
I now present you with an overview of our financial results, which highlight the performance of the university for the fiscal year ended June 30, 2017.
Overall Results
For fiscal year 2017, the university's operating revenues exceeded its operating expenses, yielding an operating surplus of $47.0 million. Carnegie Mellon's total net assets increased $556.1 million, or 23.8 percent, from fiscal year 2016 to an ending value of $2.9 billion at June 30, 2017. The increase in total net assets is primarily driven by the operating surplus; the recognition of a $270.9 million non-operating gain related to the Marvell litigation settlement, discussed below; $230.7 million in increases from favorable investment returns; and $104.9 million in restricted gifts and pledges.
Investments
Carnegie Mellon's investment portfolio represents 63.4 percent of total assets and was valued at $2.4 billion at June 30, 2017, an increase of $487.0 million, or 25.4 percent, over the prior year, primarily driven by investment of the Marvell litigation settlement proceeds retained by the university and favorable investment returns. Carnegie Mellon's investment and endowment strategies and performance are discussed in greater detail in the "Highlights from the Chief Investment Officer."
Debt Obligations
In February 2017, the university issued debt of $70.0 million in a private placement. Proceeds of the issuance will be used for strategic initiatives in the coming years. In April 2017, Standard & Poor's raised the university's long-term credit rating to AA citing improvement in the statement of financial position.
Marvell Settlement Activity
In fiscal year 2016, Marvell Technology Group Ltd. (Marvell) made a $750.0 million payment to Carnegie Mellon under the terms of a Settlement Agreement and Patent License related to a 2009 patent infringement lawsuit filed by the university. In fiscal year 2017, after the provisional period, the university recognized a $270.9 million non-operating gain for its share of the Marvell settlement proceeds, after payment of legal fees and related expenses and payments to inventors in accordance with CMU's Intellectual Property Policy. The board of trustees designated approximately $200.0 million of the amount retained by the university to the endowment for scholarships, fellowships, faculty chairs and cross-campus research initiatives. An additional $16.0 million was moved to the endowment. The remaining amount retained by the university is designated for enhancing the CMU Experience and to cover costs incurred in prior years related to the Marvell litigation
Operating Revenues and Expenses
Unrestricted operating revenues for fiscal year 2017 were $1.2 billion, an increase of $19.6 million, or 1.7 percent, over fiscal year 2016. Carnegie Mellon's primary sources of revenue were tuition and sponsored research activities.
Fiscal Year 2017 Unrestricted Operating Revenue (dollars in thousands)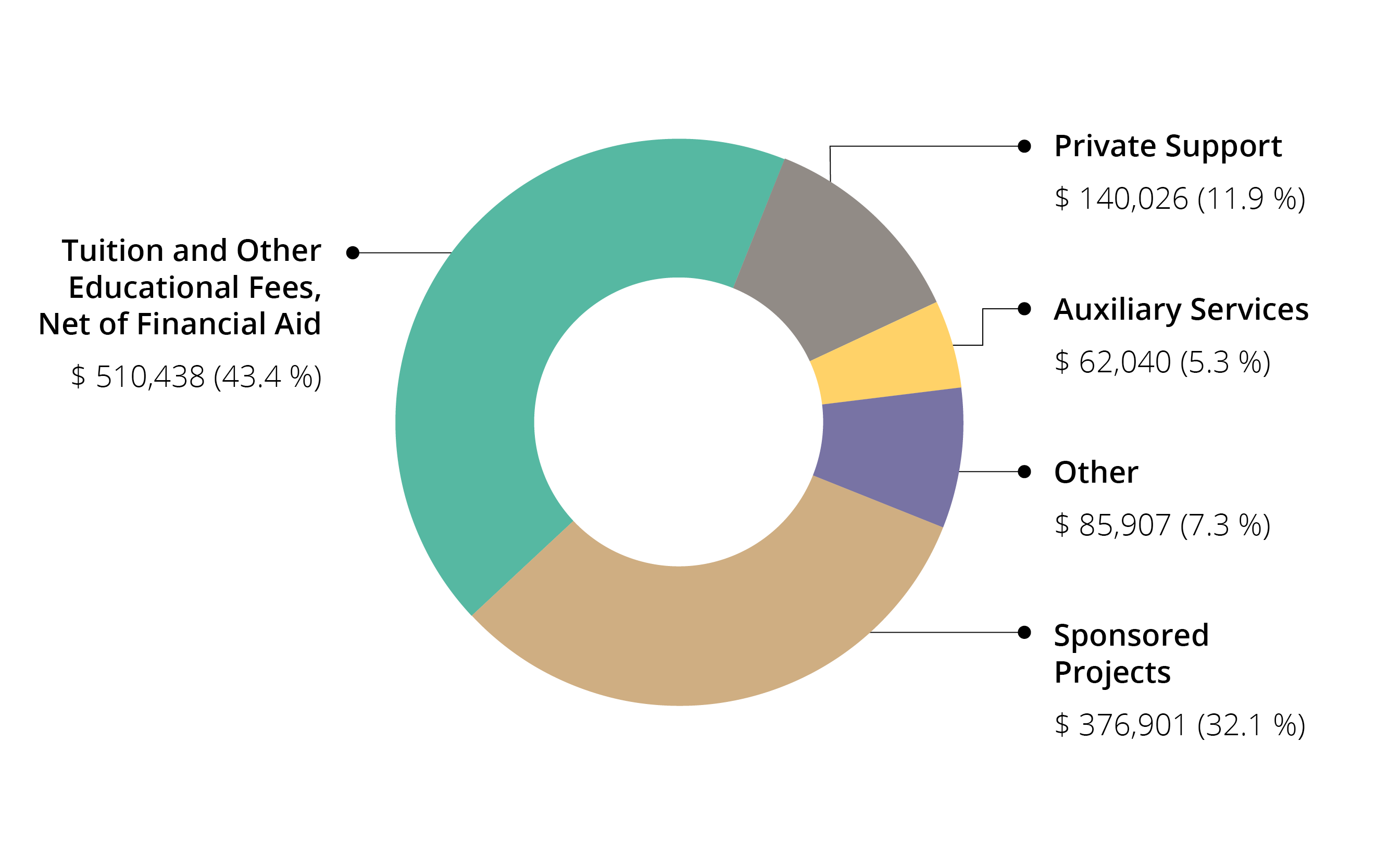 Tuition and other educational fees, net of financial aid, increased $28.1 million, or 5.8 percent, to $510.4 million in fiscal year 2017. Financial aid, which offset tuition and other educational fees revenues, was approximately 22.0 percent of gross tuition income (undergraduate approximately 25.1 percent and graduate approximately 18.3 percent). The increase in undergraduate and graduate gross tuition revenues was primarily due to increases in tuition and enrollments.
Sponsored projects revenue, including indirect cost recoveries, decreased $7.6 million, or 2.0 percent, from the prior year, which was primarily driven by a $13.7 million decrease in funding to the Software Engineering Institute (SEI), a Federally Funded Research and Development Center (FFRDC). That funding decrease was offset by a $6.1 million increase in funding to the university.
Fiscal Year 2017 Operating Expenses (dollars in thousands)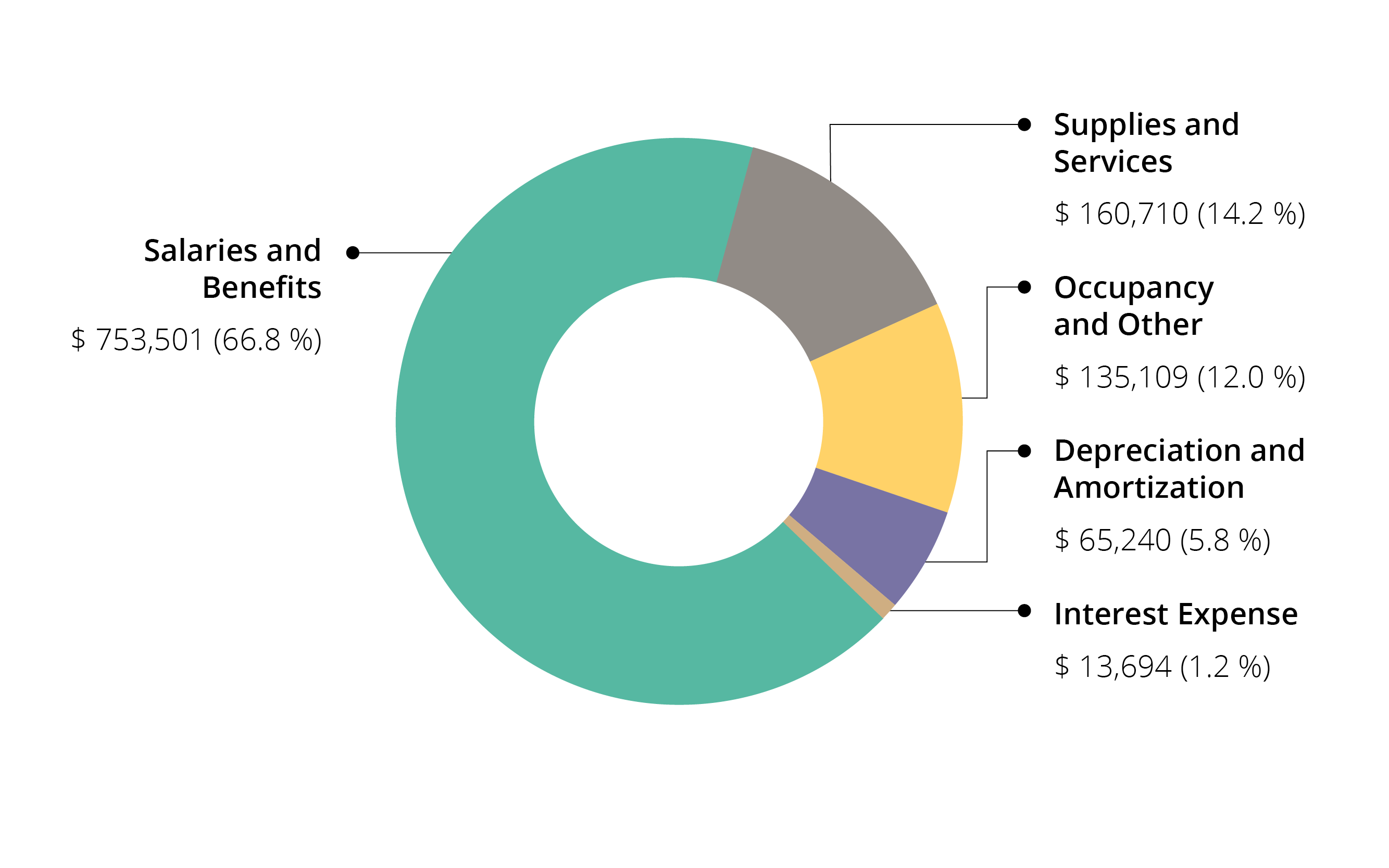 Operating expenses for fiscal year 2017 totaled $1.1 billion, a 3.6 percent or $39.1 million increase from fiscal year 2016. Personnel costs remained the university's single largest category of expense (66.8 percent) at $753.5 million in 2017, representing an increase of $34.7 million, or 4.8 percent, from the prior year and consist of salaries, wages and employee benefits. Non-personnel operating expenses increased slightly, approximately 1.0 percent. The university continually makes efforts to contain costs.
Looking Ahead
In fiscal year 2018, we will continue to find ways to deliver an exceptional CMU experience, build and strengthen partnerships, positively affect our world and do work that matters. We will do this in accordance to our Strategic Plan, which directs us to recruit and retain outstanding and diverse talent, develop our infrastructure, elevate science, build excellence across Carnegie Mellon and improve our university community for students, faculty, staff and alumni. And while our strategic priorities are imperative for the long-term success of the university, we will also continue to probe and invest in those areas where we can make the most impact.
As we continue to have an unprecedented global impact in the 21st century, there is no better time to be at Carnegie Mellon University. Our strengths in education, research and creativity are transforming the economic and cultural life of the region, the nation and the world as we pursue solving societal challenges and raise global visibility for the university.
Thank you for your support as we work together to advance these objectives.

Angela Blanton
Vice President for Finance and Chief Financial Officer
October 4, 2017