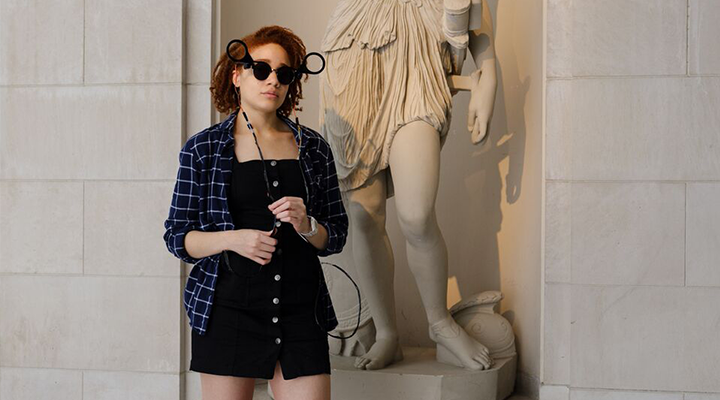 Artist Meets Technologist

At the intersection of art and technology, CMU student Lauren Valley takes the road less traveled.

Lauren Valley did not want to choose between her passion for art and her interest in technology. Instead, she uses robotics to create a new category that lives between the two.
Valley's (A 2017) projects invite human collaboration and allow users to create unexpected bonds with technology. Her creations include a wearable robot that hugs people for the wearer and a skirt that moves and makes sounds based on user input through an app.
Her inspiration comes from a physical computing class early in her education, which she took to figure out how to make a robot spider sculpture move. Her work, which has been exhibited internationally, explores how art and technology negate each other's inherent purposes, and yet, at the same time, generate something new.
Valley continues to push the boundaries of interactive art — like her YouTube channel, "Junie Genius," which presents a person who becomes more and more fantastical as the viewers interact with her each week.
As a Fifth Year Scholar, Valley is spending an extra year at CMU, compiling an online resource dedicated to the work of female artists of color. "Whatever I choose to do, I want to find ways to continue being creative," she says.
Founders,
forward.
We're celebrating our past by looking into the future 

— 

together.
Carnegie Mellon has long been a leader at the intersection of technology, arts and humanity; inspired by one to better the others; harnessing the power of our differences to make a profound impact on our society.