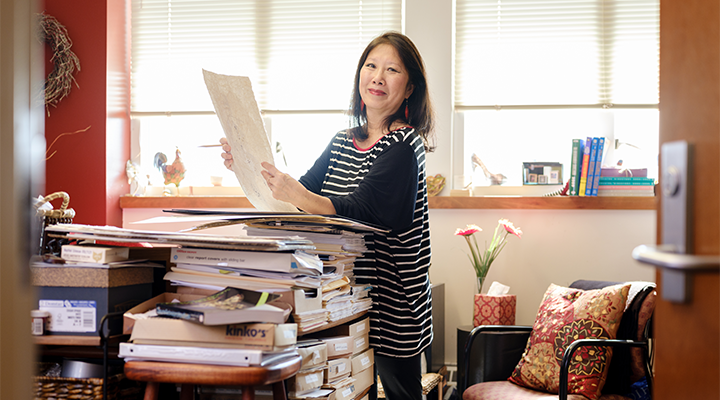 Dressing the part

The bold vision of CMU alumna and professor Susan Tsu sets the stage for even bigger things to come.
For Susan Tsu, costume design is about more than the wardrobe itself.  With an innovative approach to design, her work has appeared on stages worldwide, but it all started with the success of her first project: the original Godspell. "The first production that I designed ended up being a blockbuster hit. It was a great honor to be a part of something like that, but I knew I still had a lot more to learn." 
"At the core of it all, costume designers are people who examine the human condition," she says. "We're not only looking at clothing, we're looking at the kinds of messages clothing can send." 
Now an expert in her field, she has garnered high praise from peers and critics alike, and prestigious awards including the 2016 Irene Sharaff Lifetime Achievement, the NY Drama Desk, NY Drama Critics, NY Young Film Critics, LA Distinguished Designer Awards and a Kennedy Center Medal of Achievement.
Whether it was her very first production, designs in America's regional theaters or at Russia's Bolshoi Theatre, Tsu changes her approach with every challenge: "I adopt the skin of a chameleon so that for each new show, I think of a different process and strive to capture a different style."
Her vision brings remarkable power and authenticity to every project she takes on. And true to the Carnegie Mellon spirit of collaboration, she revels in assembling a group of artists from different cultures to share their most imaginative designs, with bold and inventive ideas, use of materials and technology. One example is her role as chief curator for "Innovative Costume of the 21st Century: The Next Generation," hosted by the A.A. Bakhrushin Central State Theatre Museum in Moscow.
She says: "To come together as a group to celebrate the human experience — that's how we'll learn from each other."
Founders,
forward.
We're celebrating our past by looking into the future 

— 

together.
Carnegie Mellon has long been a leader at the intersection of technology, arts and humanity; inspired by one to better the others; harnessing the power of our differences to make a profound impact on our society.