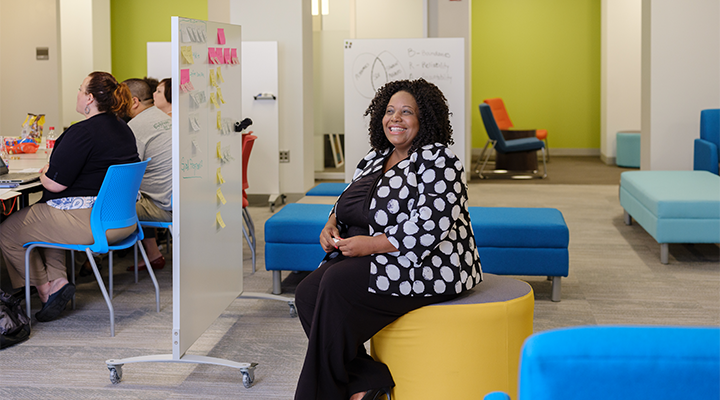 Paying it Forward
Shernell Smith helps students find a passion for service and a sense of place.
Shernell Smith believes in the power of connection, which she helped redefine at Carnegie Mellon this academic year when the new Center for Diversity and Inclusion opened.
"I believe in people," says Smith, who is assistant director of the Office of Student Affairs. "I serve as a connector. I believe in their ideas and thoughts."
The Center offers resources to enhance an inclusive and transformative student experience at CMU through access, success, campus climate and intergroup dialogue, among others, and supports and connects historically underrepresented students and those who are first in their family to attend college in a setting where students' differences and talents are appreciated and reinforced.
Travis Carless, a Ph.D. candidate in the Department of Engineering and Public Policy, welcomes the Center's addition to campus.
"The Center creates gives space where a collaborative environment is created. There I can mentor an undergrad and introduce him to the concepts of pursuing graduate education and engaging in student activism," he says. "Because of my time working with Shernell and advocating for issues that are important to me, I have developed a deep affinity for CMU, one that would not have developed had I just solely focused on my academic experience."
Shernell works to acclimate students not just to the CMU community, but to find their place in the greater Pittsburgh community as well. 
"I want them to feel that there is a sense of place for them," she says. "I know what it feels like to be marginalized and not feeling like I have a place. I never want a student I come into contact with to feel that way."
Students who work with Shernell would agree that she helps them not just find, but make connections, on campus and elsewhere.
"Over the last couple of years, Shernell didn't just make me feel like I had a place at CMU, she encouraged me to take my place by engaging more deeply with faculty, staff, administration and my fellow students about the values we ought to share as a community," says Kevin Jarbo, a fifth-year Ph.D. candidate in cognitive psychology at the Center for Neural Basis of Cognition. "You'd be hard-pressed to find someone on campus, or in Pittsburgh, who knows Shernell and doesn't love her. That, in itself, is a testament to her ongoing and tireless work creating and fostering meaningful connections between people wherever she goes."
Smith brings positivity, passion and enthusiasm to all her work, and there is a lot of it — the work and the enthusiasm – and has been a member of the Carnegie Mellon community for more than 14 years. She coordinates multicultural, diversity and inclusion programming, such as the CMU Martin Luther King Jr. celebration, the "hallmark experience" on campus that she helped create.
"We need to learn and serve," she says. "It needs to be meaningful to both sides. And you just can't say it. You have to have action."
Shernell is always in action. She is an advisor for many student organizations and is a housefellow for Margaret Morrison Apartments, Woodlawn Apartments, Roselawn Apartments and Spirit House, the upper-class housing neighborhood known as "Intersection," and is the college liaison for programs in the College of Engineering. As if that wasn't enough, she also advises sustainability initiatives on campus, like Sustainable Earth, the Sustainability Weekend and the CMU community garden on Winthrop Street, and helps with the CMU annual International Film Festival. To top it all off, she is immediate past chair of the CMU Staff Council.
 "'Our heart is in the work,'" as we say here at Carnegie Mellon, and I believe that CMU's heart is Shernell Smith," says Jarbo.