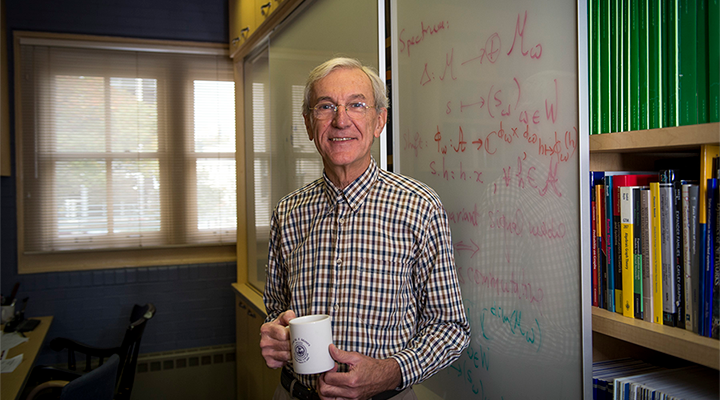 Digital Needles in a Haystack


University Professor José M. F. Moura cut through the noise to make data retrieval easier and more accurate.

If you're looking for the man who invented technology that is part of more than 60 percent of computers made in the last 14 years – that's more than 3 billion if you're counting — you don't need to go any farther than the basement of Porter Hall. José M. F. Moura, Philip L. and Marsha Dowd University Professor of Electrical and Computer Engineering, helped fuel the advance of the ever smaller and faster computers we use today.
In the 1990s, together with his Ph.D. student, Aleksandar Kavčič, Moura invented and patented a detector algorithm that could safely extract recorded data from storage devices that were becoming ever smaller in physical size while packing more and more information. Their algorithm became a must-have technology to read data with as few errors as possible.
A long running patent infringement case about the technology was settled in 2016, awarding CMU and the inventors a substantial settlement. Moura and his wife, Manuela Veloso, the Herbert A. Simon University Professor, and Kavčič and his wife donated $16.5 million from their portion of the settlement to CMU for data science and engineering education and research.
"We love the institution and we know it well," says Moura, who joined the CMU faculty in 1986. "We knew we could have an impact on CMU and could help the faculty with their research and the education of our doctoral students. It was the right thing to do."
Yet, Moura hasn't rested on those laurels. His research over the years has focused on the theory and applications of signal and image algorithms; radar and sonar; wireless communication; medical imaging; and how large-scale behaviors emerge from local interactions (for example blackouts in critical infrastructure or congestion in cities). His research group has developed technology like Spiral — computers programming computers — that has been licensed by several companies. He's currently focusing on developing algorithms for data analytics that would extract relevant information from massive amounts of data. As the recently elected 2019 president of the Institute of Electrical and Electronics Engineers (IEEE), Moura says the volunteer position will allow him to help "guide our profession to the next big height."
Moura also founded the CMU|Portugal program, a platform for education, research and innovation that brings together Carnegie Mellon with universities, research institutions and companies in Portgual, Moura's native country. The 10-year-old program has included more than 100 Ph.D. students, 250 master's degree students, more than 60 faculty from Portugal visiting CMU for extended periods and more than 60 joint research projects. It has also led to about a dozen start-ups that have created so far several hundreds of high technology jobs in Portugal.
What inspires such an accomplished founder? Moura cites CMU's commitment to cross-discipline collaboration and encouragement of its faculty's entrepreneurial spirit.
"And of course, the great students we have at all levels," Moura laughs. "I've had extremely good students."