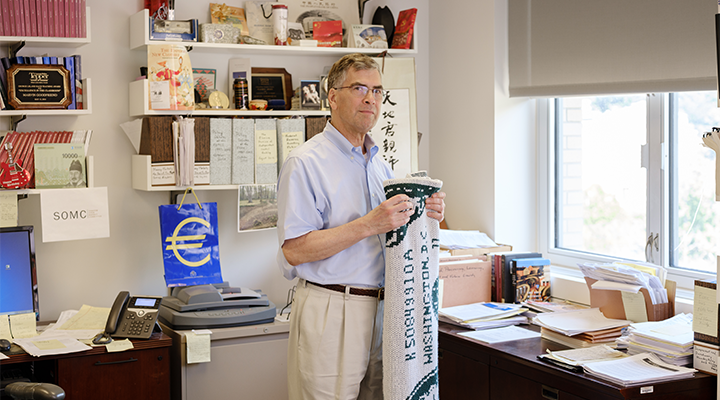 Dollars and Sense
Dr. Marvin Goodfriend puts economic theory to work


The rampant inflation of the 1960s and 1970s had such a profound effect on Dr. Marvin Goodfriend that he decided he was going to save capitalism.
"I believe in free markets. I believe in personal choice and I believe in progress," says Goodfriend. He saw all of those threatened by out-of-control inflation and unstable prices, causing fear that government would impose price and wage controls, effectively ending capitalism as it was known. So, he devoted his life to finding the causes and cures for inflation.
After two decades fighting inflation in the Federal Reserve System, Goodfriend came to CMU in 2005 to work with his friend and mentor Allan Meltzer and because CMU would allow him "to use the latest scientific models to solve problems."
As the Friends of Allan H. Meltzer Professor of Economics at Tepper School of Business, his research and teaching focuses on macroeconomics, monetary theory and policy, and banking and financial markets.
However, Goodfriend is not just a theorist; his goal is to use theory to improve practice. He presented a paper, "The Case for Unencumbering Interest Rate Policy at the Zero Bound," at the Federal Reserve's Jackson Hole Economic Policy Symposium in 2016 that posits solutions to the possibility of a new recession while interest rates are already near zero.
Goodfriend and Mervyn King, former governor of the Bank of England, recently completed a comprehensive review of the Swedish Central Bank at the request of the country's parliament, a project he notes as a particular high point in his career. Their recommendations could influence the course of Sweden's monetary policy and banking system.
"I went into economics because I wanted to make a difference," says Goodfriend. "I wanted to make a difference based on theory that is applied in practice based on evidence."
Founders,
forward.
We're celebrating our past by looking into the future 

— 

together.
Carnegie Mellon has long been a leader at the intersection of technology, arts and humanity; inspired by one to better the others; harnessing the power of our differences to make a profound impact on our society.