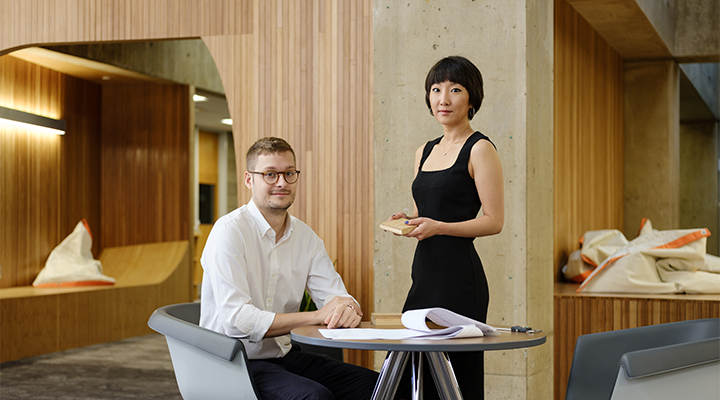 Form and Function
CFA alumni create connections between creation and design, and turn their own talents into a successful business.


"If you can imagine it, we can build it."
That's how Lexi Chung (A 2010) and Filip Agren (A 2011) describe the company they started a mere three years after graduation. The artistic vision and passion for making that was honed at Carnegie Mellon and that was just the start for these architects. From the beginning, they had big plans to build more and turned their creative talent, drive and entrepreneurial spirit into a successful design company.
The pair founded Standard & Custom (S&C), a Pittsburgh-based custom design-fabrication firm, in November 2013. S&C creates architectural products and furniture that delightfully blend function and aesthetics. As students, they were among the first to use the Carnegie Mellon University School of Architecture's Digital Fabrication Lab, which inspired in them a love of "making" and a passion for design.
"Designing without understanding the materiality, fabrication processes and installation procedure is like swimming blindfolded," says Chung. "I worked at architecture firms before committing full time to S&C and I witnessed many times when design elements were removed or value-engineered to the point that the design integrity was lost because they were 'too unique,' 'too complicated' or 'too expensive.' We realized that there needs to be a bridge between designers and builders and that bridge is us." 
Current CMU students are enjoying Chung and Agren's work in the renovated Sorrells Engineering and Science Library. S&C worked with the lead architectural firm to create three bamboo features: the portal that connects the front and back sections of the library; the cabana that houses group study tables; and the den that hosts a multimedia collaborative study area.
S&C debuted its line of architectural products and furniture at North America's premier contemporary design showcase, the International Contemporary Furniture Fair in May. Chung and Agren have big plans for growth and to craft a more beautiful future for their industry.