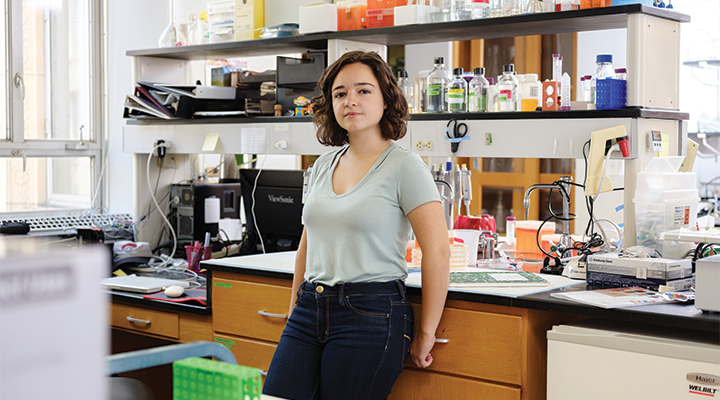 Scientifically Motivated
CMU undergraduate Christina Cabana is already pursuing her life's work: research that will defeat cancer.


Christina Cabana is personally committed to advancing cancer research. As a senior chemistry major and Science and Humanities Scholar at Carnegie Mellon, Cabana is developing a protein to kill specific cell types in specific locations and determine the role these cells play in cancer and other diseases.
"The chemistry professors and my amazing advisor, Karen Stump, have been willing to find out what I really wanted to get out of my experience and see what they could do to give it to me," she says.
Cabana's academic strengths have flourished within an environment where individual attention and undergraduate research are norms.
"To be able to start working directly under a graduate student and, over time, get more and more ownership over what I was doing was really empowering," she says. "I have the confidence to go on to graduate school and know I'll be successful there."
Cabana has demonstrated such potential as a researcher that she was awarded a 2017 Barry Goldwater Scholarship, recognized as the most prestigious undergraduate scholarship granted in the natural sciences, engineering and mathematics.
Besides discovering her talent for research and her career path, Cabana is also the "Cloakland" community advisor, president of Carnegie Mellon University Soundbytes — a coed a cappella group — and philanthropy chair and Greek Sing chair for Delta Delta Delta sorority. Last year, she co-wrote and directed the Department of Chemistry's annual murder mystery musical.
"I've been able to meet people from different majors who I don't think I would have ever crossed paths with otherwise," Cabana said. "The CMU experience has shown me that every single person here has something they love."