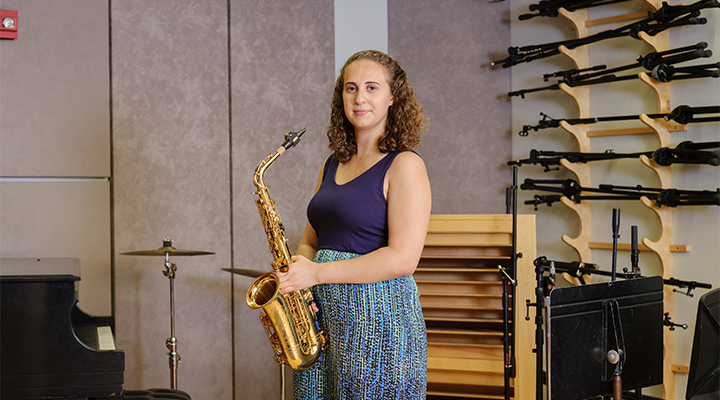 Variations on a Theme
CMU legacy Laurel Beatty creates a medley of music, management and philanthropy.


Laurel Beatty (A 2017) was just a junior when she became a philanthropist. She and three friends in the School of Music were upset to discover that there was no merit scholarship for incoming undergraduate music students. So, they raised more than $170,000 in eight months.  
With the help of matching gifts from the Office of the President, College of Fine Arts and the School of Music, the funds were used to create the endowed Heritage Scholarship Fund. The first award from the fund, of $2,500, was made to a first-year student entering in 2016.
"It was so cool to see it all come together and be able to give back to the next generation of CMU music students," says Beatty.
Beatty's father is a 1979 School of Music graduate (and performed with her at her senior recital). A Highland Ambassador and head orientation counselor, Beatty has completed an internship at the University of South Carolina's Spark Music Leadership Laboratory, and helped launch the Tranquillo Music Spa, a company that presents immersive music and wellness experiences, a concept that evolved from an idea in her audience engagement class. Her professor and fellow students designed a concert experience around the comfortable Yogibo bean bag chairs and initially intended to bring the concerts to local cancer centers as a stress-relieving break for patients and healthcare providers. Tranquillo now offers the concerts more widely, including at CMU where they provide a break from the stress of finals week.
Beatty, who self-designed and earned a degree in music management and production, is in the second year of the accelerated Master of Arts Management program jointly offered by the College of Fine Arts and Heinz College of Information Systems and Public Policy, focusing on the intersection of music, logistics/production and audience engagement.
Beatty's passion for people is central to her studies and to her future. She says: "I like finding new avenues to fix things and make things better."
Founders,
forward.
We're celebrating our past by looking into the future 

— 

together.
Carnegie Mellon has long been a leader at the intersection of technology, arts and humanity; inspired by one to better the others; harnessing the power of our differences to make a profound impact on our society.