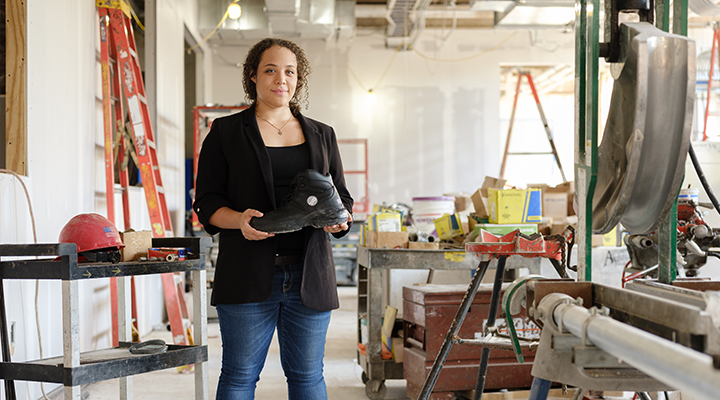 Sole (Power) Provider

CMU alumna Hahna Alexander is making powerful strides toward an "unplugged" future.
As a student, Hahna Alexander set out on a mission to make walking on campus safer at night. So she invented a shoe that lights up, powered by the wearer's own footsteps, which has surprisingly far-reaching effects on a looming power problem.
Alexander (E 2012) soon saw how her mobile energy generation and storage idea had real potential, as modern technology is driving the need for portable power for small, mobile electronics.
The entrepreneurial engineer has refined her energy-harvesting technology, and used money from Kickstarter to fund SolePower, a Pittsburgh-based start-up, with classmate Matthew Stanton (E 2012). Today, SolePower's patented Ensoles have earned funding from the U.S. Army and National Science Foundation, and Alexander was named a "Mother of Invention" by Toyota.
"From the start, we were trying to develop a technology that would solve a fundamental universal problem faced by people all over the world," Alexander recalls.
Now, Alexander has focused on SmartBoots, lightweight work boots that can charge numerous devices and sensors used by the military and the construction, oil and gas, and survey industries.
SolePower goes beyond power generation — it extends into countless industries, making them safer, more productive and more efficient. Ultimately, Alexander's goal is nothing short of global domination and getting her Ensoles "into all shoes!"
Founders,
forward.
We're celebrating our past by looking into the future 

— 

together.
Carnegie Mellon has long been a leader at the intersection of technology, arts and humanity; inspired by one to better the others; harnessing the power of our differences to make a profound impact on our society.