Lectures and Panels
View photos from the event below.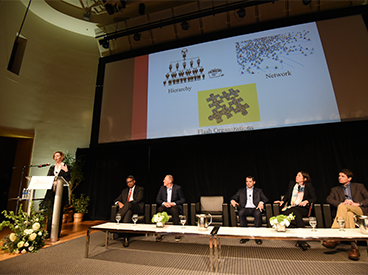 The Future of Work: 

Technologies and their Societal Impact
A panel of CMU experts will discuss the ethical and policy issues that surround AI—how it will reshape jobs, organizations, political allegiances and even economic opportunities.
Moderator: Ramayya Krishnan, Dean, H. John Heinz III College and William W. and Ruth F. Cooper Professor of Management Science and Information Systems
Lee Branstetter, Professor of Economics and Public Policy
David Danks, Philosophy Department Head and L.L. Thurstone Professor of Philosophy and Psychology
Erica Fuchs, Professor of Engineering and Public Policy
Tom Mitchell, E. Fredkin University Professor
Anita Woolley, Associate Professor of Organizational Behavior and Theory
Founding Lessons
CMU alumni have a long history of shaping and disrupting fields from performance to production.  Hear the stories of three such alumni and the lessons they learned along the way.
Moderator: Farnam Jahanian, Interim President

Denée Benton (A 2014)
Glen de Vries (S 1994)
Luis von Ahn (CS 2003, 2005)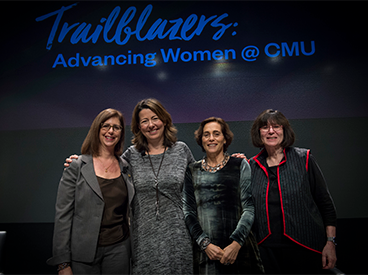 Trailblazers: Advancing Women @ CMU
Hear some of CMU's most accomplished and celebrated women faculty leaders discuss their careers and how they develop other women, encouraging them to take risks, advance within their professions and transform their fields.
Moderator: Laurie Weingart, Interim Provost and Richard M. and Margaret S. Cyert Professor of Organizational Behavior and Theory
Marlene Berhman, George A. and Helen Dunham Cowan Professor of Cognitive Neuroscience
Lenore Blum, Distinguished Professor of Computer Science
Jelena Kovačević, Hamerschlag University Professor and Head of Electrical and Computer Engineering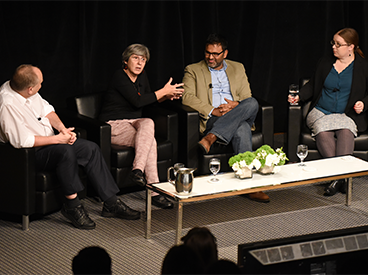 The AI Initiative
Discover why CMU was part of the birth of artificial intelligence and why it's still the leader, and hear from distinguished CMU faculty on the AI emerging trends.
Moderator: Andrew Moore, Dean, School of Computer Science
Manuela Veloso, Herbert A. Simon University Professor and Head of Machine Learning Department, School of Computer Science
Deva Ramanan, Associate Professor, Robotics Institute
Claire Le Goues, Assistant Professor, Institute for Software Research, School of Computer Science
Founders,
forward.
We're celebrating our past by looking into the future 

— 

together.
Carnegie Mellon has long been a leader at the intersection of technology, arts and humanity; inspired by one to better the others; harnessing the power of our differences to make a profound impact on our society.