Simon News, 2017
---
July 21, 2017
Making Education Technology Work for Everyone
The Simon Initiative
Educators often talk of an "opportunity gap"— academic achievement differences between students who come from privileged backgrounds and those who are less fortunate. CMU's Amy Ogan sees this gap as both a challenge for technology and an opportunity to do better. Ogan and other Simon Initiative members presented on this and other issues around around technology enhanced learning (TEL) at the 2017 Global Learning Council Summit.
---
June 21, 2017
Carnegie Mellon's RoboTutor Advances to Global Learning XPRIZE Semifinals
The Simon Initiative
XPRIZE is attempting to address the acute shortage of teachers in developing countries by funding an international competition to create open-source Android tablet apps that enable children ages 7-10 to learn basic reading, writing and math skills without requiring adult assistance. Apps were created in both English and Swahili.

Nearly 200 teams from 40 different countries entered the competition. Following an evaluation and pilot test, RoboTutor, led by CMU's Jack Mostow, is one of 11 remaining teams competing for five $1 million finalist prizes.
---
May 23, 2017
The Role Culture Plays in MOOC Success
The Horizons Tracker
The research forms part of Carnegie Mellon's Simon Initiative, which aims to improve learning outcomes by improving the science behind education. Their approach utilizes the interactive method of learning pioneered by the university's Open Learning Initiative (OLI).
---
May 22, 2017
Makers Movement Changes the Educational Landscape
U.S. News and World Report
The Elizabeth Forward School District in Allegheny County, Pennsylvania, for instance, partnered with Carnegie Mellon University to build Maker spaces in both its middle and high schools. Art, computer science and technology education teachers work together to develop projects that encourage kids to think in broader terms about the disciplines they teach.
---
May 19, 2017
Robotics kits integrate STEAM concepts into Franklin Regional's Sloan Elementary classrooms
Pittsburgh Tribune-Review
Using Hummingbird robotics kits, a spin-off product of Carnegie Mellon University's CREATE lab that was purchased by Birdbrain Technologies, 24 students displayed their projects this week for parents and siblings.
---
May 16, 2017
Fidget Spinners Renew Focus on Kids' Attention Spans
Live Science
Measuring attention spans in children can be a challenging task, said Anna Fisher, an associate professor of psychology at Carnegie Mellon University in Pittsburgh. Fisher has investigated the relationship between "sustained attention," or the ability to concentrate on one activity at a time, and learning in children.
---
May 16, 2017
Remake Learning Days Offer Sneak Peek Into Next Gen Classroom

The Simon Initiative

The future of learning is here, during Remake Learning Days—a regional celebration and exploration of the future of learning. Researchers in Carnegie Mellon University's Simon Initiative, which aims to transform education by continuously improving teaching and learning based on data, will be an integral part of the event running May 15-26.
---
May 15, 2017
Commentary: What universities can do to help cost of higher education

myStatesman.com

Carnegie-Mellon, Rice and MIT are leaders in developing such new learning tools. At Carnegie-Mellon, a computer-based course in basic statistics produced outcomes as good as those achieved with a course taught covering the same subject but in the traditional way.
---
May 12, 2017
An Anthropologist in the 21st Century Classroom
The Simon Initiative

Educational tools can make all the difference to the learner, but despite the availability of excellent new options, many of the best technology enhanced learning (TEL) resources are being left on the shelf. Supported by a grant from the Carnegie Corporation of New York, CMU researchers have been working to understand this quandary.
---
May 11, 2017
Researchers From HCII Believe Difficulty Can Be Overrated in Games
Human-Computer Interaction Institute

"Is Difficulty Overrated? The Effects of Choice, Novelty and Suspense on Intrinsic Motivation in Educational Games" will be presented at the ACM CHI 2017 Conference on Human Factors in Computing Systems.
---
May 9, 2017
New Hybrid Digital-Physical Games May Improve Student Learning
WESA-FM
Along with her advisors ​Ken Koedinger and Scott Hudson, Nesra Yannier developed a game called NoRilla, which teaches physics at an elementary school level. The digital app is hosted by a gorilla character, who instructs children to place two different towers on a table.
---
May 9, 2017
Eberly Center's First Teaching Institute Already Impacting Classrooms
The Simon Initiative
To show CMU faculty how to successfully integrate active learning or enhance what they are already doing, the Eberly Center for Teaching Excellence and Educational Innovation held a three-day institute last summer on "Teaching as Research." And instead of just handling over ideas or tools, the Eberly Center focused on how instructors can use their classrooms as learning experiments by collecting data and using it to then go back and re-tool how the activities are used.
---
May 8, 2017
Researchers develop groundbreaking technology for student writing success
eSchool News
Powered by technology that emerged from researchers at Carnegie Mellon University, Revision Assistant uses sophisticated algorithms to analyze both the context and syntax of writing. Far more than a simple grammar checker, Revision Assistant is able to read an essay and then compare how strong the writing and content is with thousands of similar papers already in its database.
---
May 3, 2017
Easing Instructional Designer-Faculty Conflicts
Inside Higher Education
"We're getting the busiest-of-the-busy faculty who are doing this work," Marsha Lovett said. "The biggest thing we can do to reduce tension around time is being really clear with faculty members about the amount of time and the kinds of activities they'll be doing."
---
May 2, 2017
Making Education Relevant for Students: The Case of Uruguay
Simon Initiative
On Friday, May 5, Claudia Brovetto will talk about an international movement called New Pedagogies for Deep Learning (NPDL) that aims to improve pedagogical practices. Schools in seven countries are currently serving as "living labs" to test the application of these practices. Brovetto will discuss the implementation of NPDL in Uruguay.
---
April 28, 2017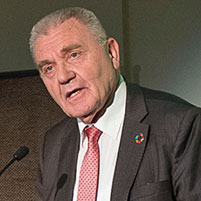 Scientists, Power and the Power of Scientists
Simon Initiative
Watch a video of Jean-Pierre Bourguignon, president of the European Research Council, deliver the 2017 Simon Initiative Distinguished Lecture.
---
April 25, 2017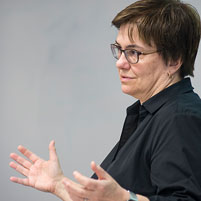 Next Generation Technologically-Enabled Post-Secondary Education
Simon Initiative
Marie Cini recently visited Carnegie Mellon University to discuss her impact and experiences at University of Maryland University College (UMUC) where she is currently the provost and senior vice president for academic affairs.
---
April 17, 2017
Can There Be a Microscope of the Mind?
e-Literate
Michael Feldstein goes beyond analogies and looks at the actual state of some cutting-edge cognitive science because lot of educators are skeptical or even cynical regarding the potential relevance of this work to the ways that they think about teaching. By exploring the science in some detail, he attempts to show that having a basic understanding of even foundational research that has no direct classroom applications can stimulate the thinking of classroom educators in useful ways.
---
April 17, 2017
Project-Based Pittsburgh: Thinking Beyond Schools to Remake Learning
Getting Smart
The Pittsburgh region has remade itself as a hub for research and technology, bringing the essentiality of 21st-century skills into sharp relief.
---
April 10, 2017
Amy Burkert Joins Simon Initiative Leadership Team
Carnegie Mellon University
CMU has appointed Amy Burkert as a co-coordinator of the Simon Initiative. Burkert, vice provost for education, succeeds Justine Cassell, associate dean for technology strategy and impact in the School of Computer Science.
---
April 5, 2017
Meet the 2017 Coolest College Startup
Inc.
Carnegie Mellon's 101 won the 2017 competition. 101's core creation was inspired by Justin Weinberg's own experience as a STEM student. Not only did he learn the materials, but he went on to teach as both a student tutor and a teaching assistant at Carnegie Mellon. Along the way, Weinberg realized that STEM classes needed a fix.
---
March 31, 2017
Simon Initiative
Mathematician Jean-Pierre Bourguignon will deliver the 2017 Carnegie Mellon University Simon Initiative Distinguished Lecture on Tuesday, April 18 at 4:30 p.m. in the Cohon University Center's Rangos 3. Bourguignon, president of the European Research Council, will discuss "Scientists, Power and the Power of Scientists."
---
March 28, 2017
Ed Surge
Founded 20 years ago in the research labs of Carnegie Mellon University, Carnegie Learning provides software and services for 1:1 and blended math learning environments.
---
March 23, 2017
Business Insider
"AI is going to have to get smarter in terms of learning from the students when it's doing something that doesn't make sense," said CMU's Amy Ogan. Otherwise, AI is no better than those frustrating phone trees you get when you call the cable company. Ogan also said that there are ways to detect what the students respond to, using cameras and software to detect facial expressions, but it's very much a work in progress.
---
March 10, 2017
Carnegie Mellon University
Students from the Master of Educational Technology and Applied Learning Science (METALS) Program attended SXSWedu earlier to inform members of the educational technology community about CMU's Simon Initiative.
---
March 6, 2017
EdTech
California community colleges are taking part in a chatbot tool pilot aimed at getting students to interact and help each other with coursework. The collaborative tool was developed by researchers at Carnegie Mellon University.
---
February 8, 2017
e-Literate
Education should be thought of as a discipline and at least partly an applied science. Strides toward improving higher education will be limited until academics (and the people who design their compensation packages) embrace the idea of the empirical educator as core to the mission of academia.
---
January 26, 2017
EducationWeek
President Donald Trump's nominee to head the federal Education Department is a major backer of a company claiming its neurofeedback technology can "fix" problems such as attention-deficit hyperactivity disorder and has "proven and long-lasting" positive effects on children with autism. CMU's Ken Koedinger weighed in on the implications for science.
---
January 23, 2017
Inside Higher Ed
"Learning science" is becoming a buzzword, but it means experimenting with new approaches and learning from what doesn't work as well as what does, writes Michael Feldstein. And everyone who teaches for a living must do it. Feldstein shares what he learned from CMU Simon Initiative experts.
---
January 18, 2017
Daily News & Analysis
As technology is creating new possibilities for society, industry and government, WEF is helping create interactions that reduce fear may have rapid change. CMU's Justine Cassell's work is profiled.
---
January 16, 2017
Foreign Policy

For the last two decades, Justine Cassell has been working on robot models that she hopes will be integrated into society — robots, she says, that will exist in the image of the good, virtuous people many of us want to be.
---
January 10, 2017
KQED MindShift
CMU's Nesra Yannier decided to invent a new kind of educational machine with which kids could learn together. Hers would use a real table with real blocks — and a computer at the heart of it that uses motion sensors to "see" what students are doing.
---
January 9, 2017
EdSurge
Personalized learning is not a product you can buy — it's a set of strategies that teachers can implement, sometimes with the help of products that are designed to support those strategies. To explore this more, Michael Feldstein talks to CMU's Ken Koedinger and Marsha Lovett.
---
January 9, 2017
e-literate TV
Three Carnegie Mellon University learning scientists, Marsha Lovett, Ken Koedinger and Lauren Herckis, have been featured on e-literate TV, which is designed to provoke conversations about how technology can be employed in the service of education.
---
January 7, 2017
EdSurge
Students use a prototype of Nesra Yannier's "mixed reality" teaching machine in a laboratory of Carnegie Mellon University. The research is part of a partnership between CMU and Forest Grove Elementary School to see if high-tech ideas can improve teaching and learning
---