Press Releases
Thursday, July 31, 2014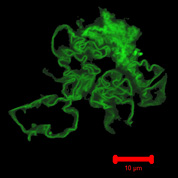 Researchers from Carnegie Mellon University have developed a novel method for creating self-assembled protein/polymer nanostructures that are reminiscent of fibers found in living cells. The work offers a promising new way to fabricate materials for drug delivery and tissue engineering applications. 

 MORE
---
Tuesday, July 29, 2014
A study published in the journal Monthly Notices of the Royal Astronomical Society by an international group of researchers, including Matthew Walker of Carnegie Mellon University's McWilliams Center for Cosmology, demonstrates a new, more accurate method for measuring the mass of galaxies. Using this method, the researchers have shown that the Milky Way has only about half the mass of its neighbor, the Andromeda Galaxy.
MORE
Friday, July 25, 2014
Shirley Ho, assistant professor of physics and a member of the McWilliams Center for Cosmology at Carnegie Mellon University, has been named a co-winner of the 2014 Outstanding Young Researcher Award from the International Organization of Chinese Physicists and Astronomers. The Macronix Prize, which is given to young, ethnic Chinese physicists or astronomers working outside of Asia, recognizes Ho for her leadership in large, international collaborations that have resulted in the most precise measurement of cosmic distances and contributed to the understanding of the nature of the expansion history of the universe.
MORE
Monday, July 14, 2014
A recent Mellon College of Science (MCS) graduate and an MCS undergraduate have landed competitive international research experiences in science, technology, mathematics and engineering (STEM) fields through the German Academic Exchange Service (Deutscher Akademischer Austausch Dienst, or DAAD for short).
MORE
Tuesday, July 8, 2014
Markus Deserno, associate professor of physics, has been appointed to the editorial board of the Biophysical Journal, the leading international journal for original research in molecular, cellular, and systems biophysics.
MORE