Press Releases
Thursday, October 8, 2015
Computational Models Suggest New Design for Nanoparticles Used in Targeted Drug Delivery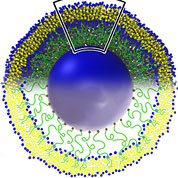 Using computational modeling, researchers have come up with a design for a better liposome. Their findings, while theoretical, could provide the basis for efficiently constructing new vehicles for nanodrug delivery.

 MORE
---
Tuesday, October 6, 2015
For the third time, the Master of Science in Computational Finance (MSCF) program at Carnegie Mellon University was awarded the top position in the 2015 QuantNet rankings of financial engineering programs.
MORE
Thursday, September 24, 2015
Carnegie Mellon University has named Alison Barth interim director of BrainHub. Barth, professor of biological sciences, will lead the university's interdisciplinary neuroscience research initiative and help direct the search for a permanent director. Professor of Statistics and Machine Learning, Robert E. Kass was named the interim co-director of the Center for the Neural Basis of Cognition.
MORE
Monday, September 21, 2015
The Dark Energy Spectroscopic Instrument (DESI) has reached its next major milestone. The project has received Critical Decision-2 approval from the U.S. Department of Energy (DOE). Shirley Ho, a member of Carnegie Mellon's McWilliams Center for Cosmology, is the co-chair of DESI's Galaxy and Quasar Clustering Working Group. 
MORE
Thursday, September 17, 2015
Chemistry professors Neil Donahue, Rongchao Jin and Krzysztof Matyjaszewski are some of the the world's most highly cited researchers in science, according to Thomson-Reuters.
MORE