Press Releases
Monday, July 20, 2015
Findings Provide Potential New Target To Interfere With Viral Life Cycle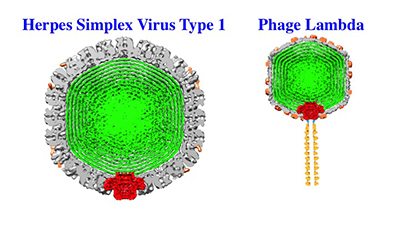 Viruses like Herpes Simplex 1 and Phage Lambda have tough outer shells (gray) that encase and protect the viral DNA (green). Alex Evilevitch and colleagues have now identified that tough shell's Achilles' heel, the viral portal (red). The above images are Cryo EM reconstructions; the portal schematic is superimposed.
All viruses have industrial-strength shells that surround and protect the genetic material within, enabling the viral particles to remain stable, infectious and capable of spreading. Carnegie Mellon University biophysicist Alex Evilevitch and colleagues have now identified that tough shell's Achilles' heel.

 MORE
---
Friday, July 17, 2015
When it comes to developing efficient, robust networks, the brain may often know best. Researchers from Carnegie Mellon University and the Salk Institute for Biological Studies have, for the first time, determined the rate at which the developing brain eliminates unneeded connections between neurons during early childhood.
MORE
Monday, July 6, 2015
Six new interdisciplinary research grants have been funded through the ProSEED/BrainHub grant program. With funding from the University level matched by MCS and CIT funds, three of the grants involve Mellon College of Science faculty partnering with colleagues from the College of Engineering to develop new tools and methods for studying neuron behavior and communications, and for analyzing neuroscience data.
MORE
Tuesday, June 30, 2015
Carnegie Mellon University chemists have developed two novel methods to characterize 3-dimensional macroporous hydrogels — materials that hold great promise for developing "smart" responsive materials that can be used for catalysts, chemical detectors, tissue engineering scaffolds and absorbents for carbon capture.
MORE
Monday, June 29, 2015
The Shurl & Kay Curci Foundation has given $200,000 to an interdisciplinary research team at Carnegie Mellon University to support fundamental research in neuroscience. The grant will allow biological sciences and engineering professors to teach mice to use brain-computer interfaces (BCI). The project could provide new information about the neural basis of learning, behavior and motor control, and could lead to the creation of a mouse model for BCI research.
MORE