Press Releases
Thursday, January 30, 2014
Canady Honored for Outreach Work with K-12 Students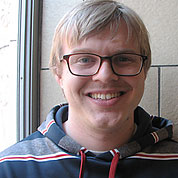 Chemistry doctoral student Taylor Canady is making sure that young students get to see just how exciting science can be. In recognition for his outreach work, Canady has been named the 2014 recipient of the Carnegie Science Award's University/Post-Secondary Student Award. The awards are given by the Carnegie Science Center in Pittsburgh to recognize and promote outstanding science and technology achievements in western Pennsylvania.

 MORE
---
Wednesday, February 12, 2014
Roberto Gil, research professor of chemistry and director of the Department of Chemistry's NMR Facility, has been appointed the features editor of the journal Magnetic Resonance in Chem
MORE
Wednesday, January 8, 2014
An international group of researchers, including physicists from Carnegie Mellon University's McWilliams Center for Cosmology, have made the most precise calibration of the standard ruler that is used to measure the universe. The researchers have used this standard ruler to measure the scale of the universe to an accuracy of 1 percent using galaxies more than six billion light years away.
MORE
Wednesday, December 11, 2013
Mellon College of Science Chemistry Professor Krzysztof Matyjaszewski, has been elected a Fellow of the National Academy of Inventors (NAI). NAI Fellows are recognized for their "prolific spirit of innovation in creating or facilitating outstanding inventions and innovations that have made a tangible impact on quality of life, economic development and the welfare of society."
MORE
Tuesday, November 26, 2013
Think you can figure out a way to unlock one of the biggest secrets of the universe? The recently launched third Gravitational Lensing Accuracy Testing challenge (GREAT3) is giving researchers the opportunity to do just that. GREAT3, which is led by Carnegie Mellon University's Rachel Mandelbaum and UCL's (University College London's) Barnaby Rowe, invites researchers from many fields, including astrophysics, statistics and machine learning, to test new and existing methods for measuring weak gravitational lensing.
MORE