Press Releases
Wednesday, December 11, 2013
2013 Class Also Includes CMU President Subra Suresh and Computer Science Professor Raj Reddy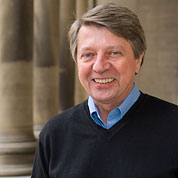 Mellon College of Science Chemistry Professor Krzysztof Matyjaszewski, has been elected a Fellow of the National Academy of Inventors (NAI). NAI Fellows are recognized for their "prolific spirit of innovation in creating or facilitating outstanding inventions and innovations that have made a tangible impact on quality of life, economic development and the welfare of society."

 MORE
---
Tuesday, November 26, 2013
Think you can figure out a way to unlock one of the biggest secrets of the universe? The recently launched third Gravitational Lensing Accuracy Testing challenge (GREAT3) is giving researchers the opportunity to do just that. GREAT3, which is led by Carnegie Mellon University's Rachel Mandelbaum and UCL's (University College London's) Barnaby Rowe, invites researchers from many fields, including astrophysics, statistics and machine learning, to test new and existing methods for measuring weak gravitational lensing.
MORE
Monday, November 25, 2013
Is our universe truly unique? Or could our universe be just one of many universes - part of what cosmologists call a multiverse? Leading astrophysicist Alan H. Guth will address this question during Carnegie Mellon's first Bennett-McWilliams Lecture on Tues., Dec. 3 at 4:30 p.m. in Rashid Auditorium.
MORE
Thursday, October 17, 2013
Carnegie Mellon University has received $1 million from The Benter Foundation to establish an endowed undergraduate scholarship for students majoring in mathematical sciences. The Benter Foundation Mathematics Scholarship recognizes Carnegie Mellon's leadership in applied mathematics and honors former Carnegie Mellon President Jared L. Cohon.
MORE
Wednesday, October 9, 2013
Theoretical chemist James T. "Casey" Hynes will deliver Carnegie Mellon University's Third Biennial John A. Pople Lecture in Theoretical and Computational Chemistry at 4:30 p.m., Tuesday Oct. 15 in the Mellon Institute Auditorium, 4400 Fifth Ave., Oakland. His lecture, "Jumps and Hydrogen Bonds: From Pure Water to DNA" is free and open to the public. It will be followed by a reception in the Mellon Institute lobby.
MORE