Monday, June 5, 2017
MCS Staff Award Recipients Honored at Annual Ceremony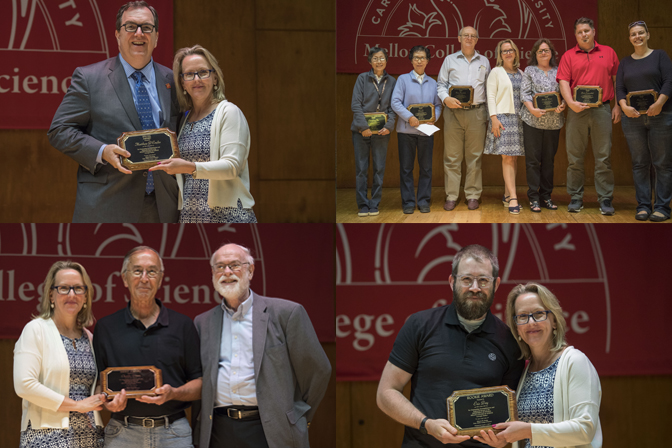 Not pictured: Trina Goggins
---
On June 1, faculty, staff and administrators gathered in the Mellon Institute to honor MCS staff members for their dedication and service to the Mellon College of Science.
Merit Award: Charles Gitzen
Charles Gitzen has served the Department of Physics for over 45 years. In that time, Stephen Garoff, professor of physics, can't recall of one thing that Charles couldn't or wouldn't do for the department. As the storeroom manager, purchasing agent and all-around "Mr. Fix-It," Charles is known for his smile and friendly attitude and his dedication to keeping the department in working order. Simply put, Garoff says "the department could not function without him."
Rookie Award: Eric Day
Though nominator Gregg Franklin, professor of physics, jokes he hired Eric Day after hearing that he was considered the "best bicycle repairman in Pittsburgh," Eric has been indispensable since he joined the physics department. Initially hired as a technician, Eric came on board to help with the construction of a 40-ton particle detector. After the department's head machinist retired, Eric stepped up to plate and "kept the project on track by rapidly learning the necessary machining skills to successfully take charge of the construction project." Having to wear many hats as both a machinist and technician, Eric's initiative and drive earned him this year's Rookie Award.
Special Service Award: Matthew D'Emilio
As the saying goes, it takes a village. The Special Service Award recognizes this sentiment by paying tribute to those outside MCS who have gone above and beyond in service to the college. Director of University Contracts Matthew D'Emilio's efficiency, competency­ and responsiveness to ensure the completion of contracts, agreements and other documents for the college has made him an "indispensable asset to MCS."
Outstanding Achievement Awards
The Outstanding Achievement Awards recognize MCS staff members for their substantial achievement and outstanding job performance. This year multiple awards were given out within the college:
Biological Sciences: Glassware Facility Team
Laboratory Assistants Trina Goggins, Xun Li and Chongheng Nie play a crucial role as members of the Glassware Facility Team in the Department of Biological Sciences. "If they shut down for one day, departmental research would come to a grinding halt; if they only followed their job descriptions, the Biological Sciences undergraduate lab course would crash and burn." Their work supports departmental research and teaching missions, and despite the challenging conditions, they are always "cheerful, friendly and energetic."  
Mathematical Sciences: Florin Manolache
As the director of Scientific Computing, Florin Manolache has his plate full. He is responsible for hardware and software support and installation and configuration for all branches of MCS. His position also oversees staffing roles in all departments and provides appropriate technical support as required.
MCS Dean's Office: Michelle Waters
Michelle Waters, business manager for MCS Dean's Office, received recognition for her extraordinary dedication during the 2017 Mellon Institute Cleanout. "Of all the Mellon Institute lab, office and hallway participants, her effort was by far the most committed. Her materials alone accounted for roughly 15-20 percent of the entire effort, filling more than one Maroadi truck, more than one 30-yard container and more than twenty 95-gallon document disposal bins."
Pittsburgh Supercomputing Center: Jason Sommerfield
In his role as coordinator of systems and operations with the PSC, Jason Sommerfield provides a high degree of technical expertise and managerial leadership across the entire center. More than that, he is described as "a friend to all who work with him and an outstanding example of a model CMU staff member."
Physics: Hilary Homer
Hillary Homer, a business office coordinator in the Department of Physics, is responsible for handling all new-employee arrangements, visa requirements and employee regulation issues. In spite of ever-changing and complex new regulations and procedures, Hilary "has worked very hard to stay on top of these situations and help students, staff, researchers and faculty in the physics department begin and go about their work."
---
Also during the ceremony, 27 staff members were given years-of-service awards, recognizing from five years to 35 years with MCS.
By: Emily Payne, epayne@andrew.cmu.edu, 412-268-4859