Friday, August 3, 2012
NSF Advances Large Synoptic Survey Telescope to Final Design Stage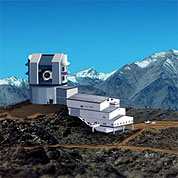 The National Science Board (NSB) of the National Science Foundation (NSF) has given the Large Synoptic Survey Telescope (LSST) project approval to advance to the final design phase.  The NSB approval permits the NSF Director to include funds for construction of the 8-meter wide-field survey telescope in a future budget request.  The NSF will construct the LSST in partnership with the Department of Energy's Office of Science, which is funding the LSST camera.
"The decision by the National Science Board is great news for U.S. science and especially for all of those who have been working on the LSST," said Fred Gilman, dean of Carnegie Mellon University's Mellon College of Science and chair of the AURA Management Council for the LSST (AMCL) that oversees the project. "The LSST, along with other large scale surveys like the current Sloan Digital Sky Survey, will place U.S.-based researchers at the forefront of cosmological research for the coming decades, providing data to probe the nature of dark energy." 
Construction on the LSST is hoped to begin in 2014 atop Cerro Pachón, a mountain in Northern Chile. When fully operational, the 8.4-meter telescope will use its 3 billion-pixel camera to survey the entire visible sky in multiple colors.  The telescope will take snapshots every 15 seconds, creating a movie that will allow researchers to study objects that change or move on rapid timescales, like exploding supernovae, potentially hazardous near-Earth asteroids, and distant Kuiper Belt Objects. The images will also be used to trace millions of remote galaxies and to help answer questions about dark matter and dark energy. 
Since joining the LSST collaboration in 2008, CMU and its Bruce and Astrid McWilliams Center for Cosmology have taken an increasing leadership role in the project. A member of the LSST Executive Board, Gilman was named chair of the AMCL in 2012.   Assistant Professors of Physics Shirley Ho and Rachel Mandelbaum are co-leaders of research tasks within the recently formed LSST Dark Energy Science Collaboration, which also involves research by CMU theoretical astrophysicists Rupert Croft, Tiziana Di Matteo and Hy Trac.
By: Jocelyn Duffy, jhduffy@andrew.cmu.edu, 412-268-9982