Tuesday, June 19, 2012
Chemistry's Danielle Chirdon Receives DOE Office of Science Graduate Fellowship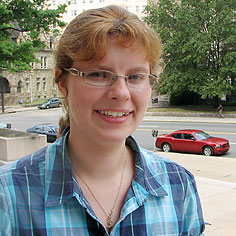 PITTSBURGH—Graduate student Danielle Chirdon has received a U.S. Department of Energy (DOE) Office of Science Graduate Fellowship to support her research on developing new materials to improve the performance of solar cells. The fellowship provides three years of support for outstanding students pursing advanced degrees in scientific and engineering fields supported by the Office of Science.
Chirdon, who just completed her first year of graduate work in the Department of Chemistry, is investigating two types of solar cells called bulk heterojunction cells and dye-sensitized cells.
"Solar cells are one of the most promising sources for clean energy because they are completely cyclic in nature and tap into the greatest energy reserve available to us on Earth," said Chirdon, who works with Associate Professor of Chemistry Stefan Bernhard. "I'm interested in developing new materials to see if we can improve solar cell performance."
The most prevalent type of material used for making solar cells is silicon. Silicon-based solar cells are about 20 percent efficient in converting light into electricity, and they are very expensive to manufacture.
"We need cheaper, more efficient cells before we can ever use solar power on a large scale," Chirdon said.
She is developing new materials for use in bulk heterojunction cells that will increase the cell's ability to transport an electrical charge, thus making it more efficient. Bulk heterojunction cells are currently about 10 percent efficient.
Chirdon is also working with dye-sensitized solar cells that use dyes to capture light energy and convert it into electricity. Dye-sensitized cells are promising because they are easy to assemble and are made from very inexpensive materials—except for the dyes. The most common dye used is based on ruthenium, a rare metal that is quite costly. Chirdon's goal is to synthesize new dyes that will be less expensive and longer lasting.
Chirdon first became interested in using chemistry to address energy-related issues when she was an undergraduate intern at the DOE's National Energy Technology Lab near Pittsburgh, PA. Chirdon, a Pittsburgh native, earned a Bachelor of Science Degree in Chemistry from the University of Pittsburgh.
The DOE Office of Science established the DOE Office of Science Graduate Fellowship Program in 2009 to encourage the development of the next generation of scientific and technical talent in the U.S. who will pursue careers in research critical to the Office of Science mission at DOE laboratories and in academia. Each fellow is provided with a generous stipend to support tuition, living expenses, research materials and travel to research conferences or to Department of Energy scientific user facilities.
By: Jocelyn Duffy, jhduffy@andrew.cmu.edu, 412-268-9982