Monday, May 21, 2012
Biology Student Receives 2012 Judith A. Resnik Award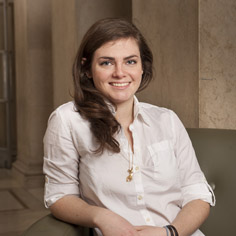 Judy Savitskaya, a 2012 graduate with a B.S. in computational biology, received the Judith A. Resnik Award during commencement weekend. The award, which honors Carnegie Mellon alumna and space shuttle Challenger astronaut Dr. Judith A. Resnik, is presented annually to an outstanding woman graduating in the sciences or engineering who plans to attend graduate school and whose academic performance, creativity and vision illustrates potential for high academic achievement in her field.
As a computational biology major and Science and Humanities Scholar, Savitskaya pursued interdisciplinary coursework in biological sciences, computer science and the humanities that allowed her to explore concepts through the lenses of different disciplines.
"Judy is a truly exceptional student who exemplifies much of what makes Carnegie Mellon students special," said Nathan Urban, the Dr. Frederick A. Schwertz Distinguished Professor of Life Sciences and head of the Department of Biological Sciences. "She is a deep and interdisciplinary thinker working at the interface between fields and has demonstrated remarkable intellectual maturity and ability."
At Carnegie Mellon, Savitskaya studied how networks of neurons in the brain work by designing virtual networks that simulate their behavior. This work sparked her interest in synthetic biology, a field in which scientists design and construct new biological parts and systems.
After graduation, Savitskaya will conduct research in synthetic biology while pursuing a Masters of Philosophy degree in the School of the Biological Sciences at the University of Cambridge in England. Savitskaya is one of 14 students in the United States this year to receive a prestigious Churchill Scholarship that funds a year of postgraduate study at the University of Cambridge.
Recipients of the Judith A. Resnik Award receive $1,000 and a certificate of recognition, and their names are added to Carnegie Mellon's Judith A. Resnik Award Recipient plaque in the University Center.
By: Jocelyn Duffy, jhduffy@andrew.cmu.edu, 412-268-9982