Monday, May 7, 2012
Alumna Sara Stanford Stitches a Memory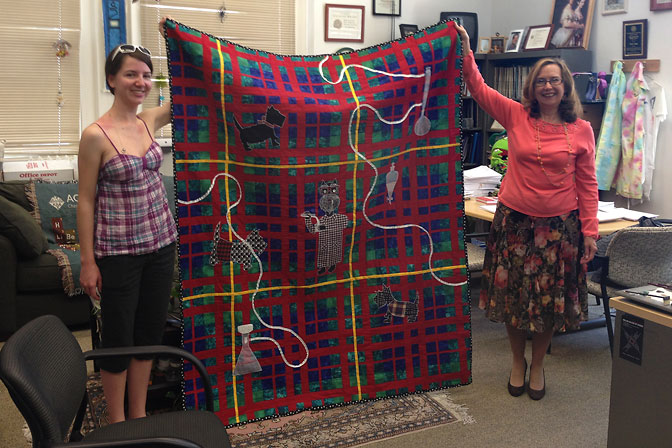 If there is a gene for sewing, Sara Stanford inherited it. She started sewing when she was a little girl under the tutelage of her mother, who has a bachelor of science degree in clothing, textiles, and interior design. Since then, Stanford, a 2011 chemistry graduate, has made everything from purses and baby blankets to formal dresses and a business suit.
One of her most recent projects combines her passions for sewing and chemistry—and pays tribute to a special bond with her advisor Karen Stump, teaching professor of chemistry. Stanford designed and stitched a quilt, dubbed "The Solution is Plaid," that is quintessential Carnegie Mellon chemistry.
"I knew that, for Karen, I wanted to make something extra special," Stanford said. "Karen is always there for you, and she always has time to talk—whether it's about school or about life. She has room in her heart and her schedule for everyone."
Stanford scoured quilting resources looking for a design for a quilt for Stump but found that there was a dearth of chemistry-themed quilt patterns out there. But she wasn't discouraged because she knew that, for Stump, just any old quilt wouldn't do. So Stanford created her own unique design.
The quilt features a Scotty dog wearing a plaid lab coat and safety goggles, pouring a test tube of liquid into a beaker. Scotty shares the space with three other dogs and some of the chemist's tools: a reflux apparatus, a separatory funnel, and a vacuum flask with a Buchner funnel—all full of different plaid solutions.
Because Stanford wanted to depict Carnegie Mellon chemistry, she planned to incorporate the Carnegie tartan plaid into her design. But doing so wasn't as easy as she first anticipated.
"That fabric is impossible to buy, apparently," Stanford joked.
Undeterred, she downloaded the plaid and studied it carefully. She then used graph paper—lots of graph paper—to make a pattern true to the Carnegie Mellon plaid, then painstakingly pieced the fabric together.
"I can't speak adequately to my surprise and delight at seeing the quilt that Sara had designed and made for me in celebration of her time as a student here," Stump said. "I will always display it with pride. It makes me smile each and every time that I look at it, both with amazement at her handiwork but more importantly with thanks that we have come to know one another thanks to Carnegie Mellon."
Sara Stanford graduated in 2011 with a bachelor's degree in chemistry. She currently works at UCLA in a medical research laboratory genotyping DNA from young patients with gastrointestinal maladies. She plans to apply to medical school to pursue a combined M.D./Ph.D.
By: Amy Pavlak