Wednesday, May 2, 2012
MCS Staff Awards, 2012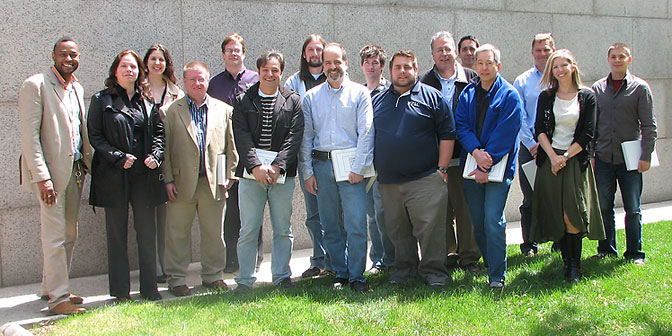 ---
On April 27, faculty, staff and administrators gathered in the Mellon Institute to honor MCS staff members for their dedication and service to the Mellon College of Science.
Special Award: Jennifer McNabb
Jennifer McNabb, assistant director of the Office of International Education, received the Special Award, which acknowledges a staff member or team from outside MCS who has given special service to the college.
Rookie Award: Montel Rudolph
Montel Rudolph, the business office coordinator in the Department of Physics, received the MCS Rookie Award, which is given to a staff member employed at MCS less than two years who has exceeded all expectations in meeting the challenges of his or her job.
Merit Award: Timothy Sager
Timothy Sager, business manager in the Department of Chemistry, received the Merit Award, given to an MCS staff member or team who has maintained an outstanding job performance level over an extended number of years and consistently made significant contributions to a department or center and MCS.
Outstanding Achievement Awards
The Outstanding Achievement Awards recognize MCS staff members for their substantial achievement and outstanding job performance. This year multiple awards were given out within the college:
Biological Sciences:
Al Scheuring, Systems Administrator
Chemistry:
Mike Karabinos, Director of the ChemCollective
Mathematical Sciences:
Nancy Watson, Departmental Secretary
Pittsburgh Supercomputing Center:
Steve Cunningham, Adam Fest, Shane Filus, Ken Goodwin, Ed Hanna, Brian Johanson, Joe Lappa, Susan Litzinger, Ray Nardozzi, Clint Perronne, Jason Sommerfield, and Bryan Webb (members of the PSC Systems Support Team)
Physics:
Amy Woodhall and Kaitlin Mueller, Lab Technicians
---
Also during the ceremony, 34 staff members were given years-of-service awards, recognizing from 5 years to 30 years with MCS.