Monday, October 31, 2011
Creepy Chemistry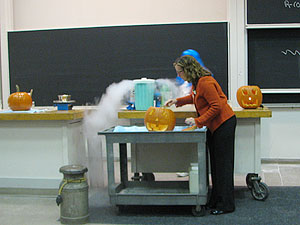 Professor Karen Stump is about to make this Jack-o-lantern very unhappy.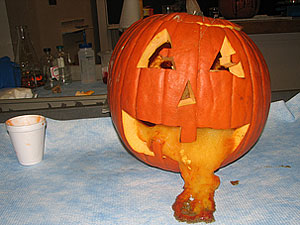 A splash of hydrogen peroxide, a dollop of potassium iodide and a dash of soap shows us what might happen if we eat too much Halloween candy.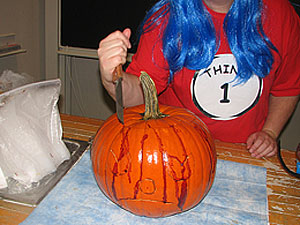 A knife tipped with ferric chloride makes it appear as if this pumpkin is bleeding.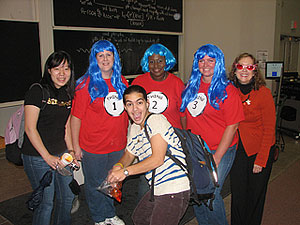 From left: Tintin Wang, Carolyn Neiderlander, Gizelle Sherwood, Jeannine King, Karen Stump and Berryhill McCarty(front)
Vampires rise from their graves. Zombies lurch after their next victims. The Headless Horseman rides in search of his head. Things go bump in the night. At Carnegie Mellon, pumpkins vomit, get indigestion and bleed.
It's a Halloween tradition in the Chemistry Department. Teaching Professor Karen Stump dons her witch's hat and stirs her steaming cauldron—which is full of dry ice, of course—to show off some tricks of the chemist's trade that bring out the kid in all of us.
"I think it's crucial at certain times to stop and remember all the good things in life that you enjoy," Stump told her students. "This is a day where hopefully you can remember the fun part of chemistry."
Check out the video and pictures to see how chemistry can make Halloween particularly ghoulish.