Tuesday, May 24, 2011
Chemist Rongchao Jin Receives a Camille Dreyfus Teacher-Scholar Award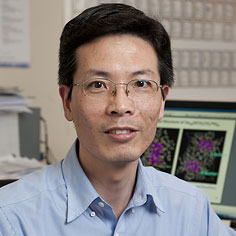 The Camille and Henry Dreyfus Foundation has announced that Carnegie Mellon University's Rongchao Jin is a 2011 Camille Dreyfus Teacher-Scholar. Jin is one of 13 researchers in the United States this year to receive the award, which supports the research and teaching careers of talented young faculty in the chemical sciences. Recipients are selected based on individual research attainment and promise, along with evidence of excellence in teaching.
Jin's research interests focus on developing new methods to synthesize well-defined nanoclusters comprised of an exact number of atoms, from a dozen to hundreds. While most procedures for making these tiny nanoclusters result in a mixture of clusters with a variety of sizes, Jin's laboratory has created a new method that allows for precise control over the number of atoms in each nanocluster. Wielding this level of control is necessary for producing nanoclusters of uniform size and shape so that their distinct, quantum-sized properties can be investigated in depth. To date, Jin has successfully synthesized several ultra-small, atomically precise gold (Au) nanoclusters, such as magnetic Au25(SR)18, chiral Au38(SR)24, and Au144(SR)60, where SR represents protecting groups of thiolate. Using X-ray crystallography as well as steady-state and time-resolved ultrafast spectroscopy, he has found that the gold nanoclusters have unique magnetic, electronic and surface properties. He is exploring their utility in high-density magnetic data storage devices, as part of a nanoarray chemical sensor and as highly selective catalysts for industrially important oxidation and hydrogenation processes.
"I'm very glad to receive this prestigious award," said Jin, an assistant professor of chemistry. "The unrestricted research grant certainly means a lot to me; it allows us to perform some high-risk, exploratory research work for which it is difficult to attract regular grants. The funds also will be used to support both undergraduate and graduate students."
In addition to his research activities, Jin has developed a new course in nanotechnology for graduate and undergraduate students and worked with colleagues in the Department of Chemistry to add nanotechnology experiments to undergraduate physical chemistry lab courses.
Jin came to CMU's Mellon College of Science in 2006 after completing a postdoctoral fellowship at the University of Chicago. He received his Ph.D. from Northwestern University.
Previous recipients of Dreyfus Teacher-Scholar Awards in CMU's Department of Chemistry include Catalina Achim, Terry Collins and David Yaron.