Wednesday, May 4, 2011
MCS Staff Awards, 2011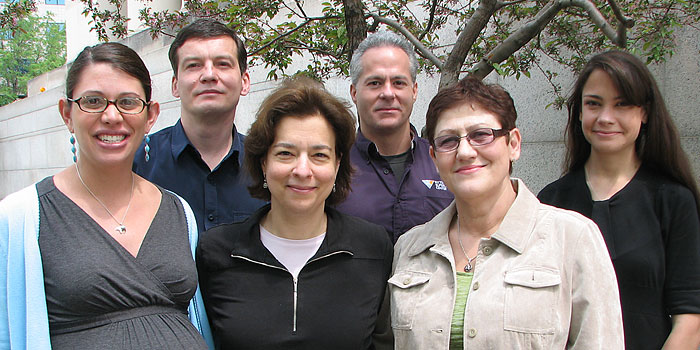 On May 2, faculty, staff and administrators gathered in the Mellon Institute to honor MCS staff members for their dedication and service to the Mellon College of Science.
Special Award: Teresa Trombetta
Teresa Trombetta, assistant director of development events for University Advancement, received the Special Award, which recognizes a person outside of the college for the service they have given to MCS. "If you've ever been to a donor recognition event, like a named professorship ceremony, and thought to yourself how nice the room looked, or how good the food tasted, or how smoothly the program was run, the person you have to thank is Teresa. She makes sure that we in MCS always put our best face forward," said Jocelyn Duffy, who nominated Teresa for the award.
Rookie Award: Christine Gilchrist
Christine Gilchrist, program coordinator in the MCS Dean's Office, received the Rookie Award. Associate Dean Eric Grotzinger, who presented the award to Gilchrist, spoke of how she has energized the office with her infectious smile and personality. "Christine is bright and motivated with a commitment to hard work. She excels in everything she does," including co-advising more than 200 first-year MCS students.
Outstanding Achievement Awards
The Outstanding Achievement Awards recognize MCS staff members for their substantial achievement and outstanding job performance. This year multiple awards were given out within the college:
Biological Sciences: Tatyana Aleynikova
Tatyana Aleynikova, a researcher in Professor Aaron Mitchell's laboratory, is "the backbone of the lab," according to Shoba Subramanian, who nominated Aleynikova for the award. She went on to commend Tatyana for making sure that the lab members have all of the supplies they need each week, calling her preparation absolutely terrific.
Pittsburgh Supercomputing Center: John Urbanic
John Urbanic, staff computational science consultant, has worked at the PSC for 20 years and has amassed a "deep and broad knowledge of everything technical, whether computational or electronic," said Nick Nystrom. John is a nationally recognized expert, a first-rate educator, and a skilled researcher who has spearheaded new collaborations and has played a big part in writing proposals, Nystrom added.
Mathematical Sciences: Adrian Dumitrase
Adrian Dumitrase, principal systems administrator, "knows the most about computers of anyone I know," said Florin Manolache, who nominated Adrian for the award. "Once he starts solving a problem, he will not stop until the problem is completely solved. He has contributed greatly to the happiness of the people in the math department."
Physics: Gary Wilkin
For more than 30 years, Gary Wilkin has been the principal machinist and detector designer for the Physics Department. Gregg Franklin, who nominated Gary for the award, spoke highly of Gary's attention to detail, describing how he not only designs detectors with extreme precision but also carefully plans and executes the transport of the detectors to national laboratories across the country.
Merit Award: Ena Micelli
Ena Micelli, coordinator of graduate student affairs in the Department of Biological Sciences, received the Merit Award for maintaining an outstanding job performance level and consistently making significant contributions to the department. Nathan Urban praised Micelli for smoothly and efficiently handling a doubling of students in the department's Ph.D. program. "Ena is involved with the students from day zero through graduation. She is the face of the graduate program and her personal touch has improved our ability to attract wonderful students."
Also during the ceremony, 30 staff members were given years-of-service awards, recognizing from 5 years to 30 years with MCS.