Wednesday, February 9, 2011
Stephanie Tristram-Nagle Wins Charles E. Kaufman Award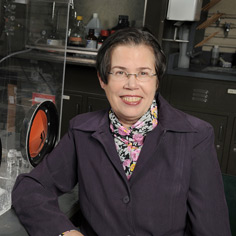 PITTSBURGH – The Pittsburgh Foundation announced that Carnegie Mellon University research professor Stephanie Tristram-Nagle was awarded the third annual Charles E. Kaufman Award of $50,000 for her ground-breaking research in lipid membranes, the underlying structure of all living cell membranes, which may one day lead to a breakthrough in the treatment of AIDS.
The award is presented annually to an honoree that demonstrates "substantial contributions to science for both the betterment and understanding of human life." The late Mr. Charles Kaufman established the award in 2008 at The Pittsburgh Foundation "to promote a better and fairer world by supporting those that can make a difference with science." Mr. Kaufman passed away in September at the age of 97.
Dr. Tristram-Nagle is a research professor with the Biological Physics Initiative in the Department of Physics at Carnegie Mellon University. Her research, conducted alongside her colleague and husband Dr. John F. Nagle, professor of physics and biological sciences at Carnegie Mellon, focuses on the physics and properties of lipid membranes primarily using X-Ray scattering techniques.
Cell membranes have an underlying structure, called a lipid bilayer, which consists of relatively small molecules that work together to effectively keep certain things in and out of a cell, she explained. Her research was responsible for major discoveries published in 2007 and 2010 that are helping researchers to understand how HIV enters immune cells with ease, a finding that may one day lead to the creation of a drug that will prevent deadly HIV infections.
The research also has implications in our biological understanding of cholesterol, since removal of cholesterol from the HIV membrane prevents infection. She has donated her $50,000 Award to the University to support her team's continued research.
"I'm interested in learning more at the molecular level how the HIV infections occur," explained Dr. Tristram-Nagle whose HIV research has spanned more than five years. "(The key is) to actually modify the lipid environment. What are those lipids doing there? We know that they play a role, and if we could understand the lipid roles better, we could develop a drug to which the virus could not become immune."
The Charles E. Kaufman Award Fund is a supporting organization of The Pittsburgh Foundation, with managerial oversight provided by a seven-member Board of Directors. Nominations for the award are solicited from selected colleges and universities in Pennsylvania that deliver graduate level programs.
"Research is such challenging work, mentally, physically and emotionally," Tristram-Nagle added. "It's awards like these that motivate all of us. It's wonderful to receive recognition for our scientific research."
The Foundation announced last month that Mr. Kaufman left his estate of approximately $50 million to the Foundation. A major proportion of this bequest will be used to expand his Award Fund to create one of the largest grantmaking resources for scientific research in the state of Pennsylvania.
###

For further information contact:

John Ellis
The Pittsburgh Foundation
412-394-2647
ellisj@pghfdn.org

Jocelyn Duffy
Carnegie Mellon University
412-268-9982
jhduffy@andrew.cmu.edu