Thursday, May 20, 2010
Carnegie Mellon Receives $1M from HHMI for Undergraduate Research
Grant Will Continue HHMI's 20 Years of Support to the University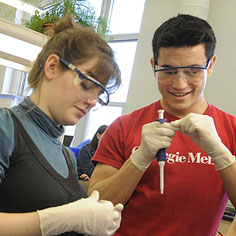 PITTSBURGH-Carnegie Mellon University has received a $1 million grant from the Howard Hughes Medical Institute (HHMI) to continue to help fund the Summer Undergraduate Research Program. 
"Undergraduate research is at the foundation of a Carnegie Mellon education in the sciences.  Many of our students say that one of the main reasons they chose Carnegie Mellon was because they would have the opportunity to conduct research," said Aaron Mitchell, professor of biological sciences, who heads the HHMI research program at CMU's Mellon College of Science. "HHMI has made it possible for undergraduate research to continue to thrive at our university."
HHMI has funded undergraduate research at Carnegie Mellon for more than 20 years, with close to 700 students participating in the Summer Undergraduate Research Program since 2000. Most students in the program cite their research experience as one of the top two most impactful components of their education - one-third have gone on to pursue a graduate degree in the science, technology, engineering or math fields. 
The Summer Undergraduate Research Program offers a variety of research experiences for undergraduates, allowing them to tailor their experience to best suit their educational objectives. For example, students interested in biology can spend the summer working on genetics research in the lab of one Carnegie Mellon faculty mentor, while those more inclined toward chemistry can learn about quantum computational chemistry in the lab of another. Additionally, students interested in medicine may work in a clinical lab at the University of Pittsburgh. 
The grant also will support the Summer Research Institute, a component of the program. The Summer Research Institute is a multidisciplinary program that gives students who have just completed their first year an opportunity to conduct original research. During the 10-week program, which has been in place since 2003, students work in teams to design and complete a discovery-based project. In past years, students have developed biosensors, analyzed novel gene knockout strains of yeast, and conducted detailed biochemical and biophysical analysis of proteins. 
This year HHMI awarded $70 million in grants to undergraduate research programs in 50 universities across 30 states and the District of Columbia. The grants, which support programs over four years, help universities to develop research-based courses and curricula, give students vital experience working in the lab and improve science teaching from elementary school through college.
###
About Carnegie Mellon: Carnegie Mellon (www.cmu.edu) is a private, internationally ranked research university with programs in areas ranging from science, technology and business, to public policy, the humanities and the fine arts. More than 11,000 students in the university's seven schools and colleges benefit from a small student-to-faculty ratio and an education characterized by its focus on creating and implementing solutions for real problems, interdisciplinary collaboration and innovation. A global university, Carnegie Mellon's main campus in the United States is in Pittsburgh, Pa. It has campuses in California's Silicon Valley and Qatar, and programs in Asia, Australia, Europe and Mexico. The university is in the midst of a $1 billion fundraising campaign, titled "Inspire Innovation: The Campaign for Carnegie Mellon University," which aims to build its endowment, support faculty, students and innovative research, and enhance the physical campus with equipment and facility improvements.
Media Contact:
Jocelyn Duffy
jhduffy@andrew.cmu.edu
412-268-9982