Thursday, May 13, 2010
MCS Staff Awards, 2010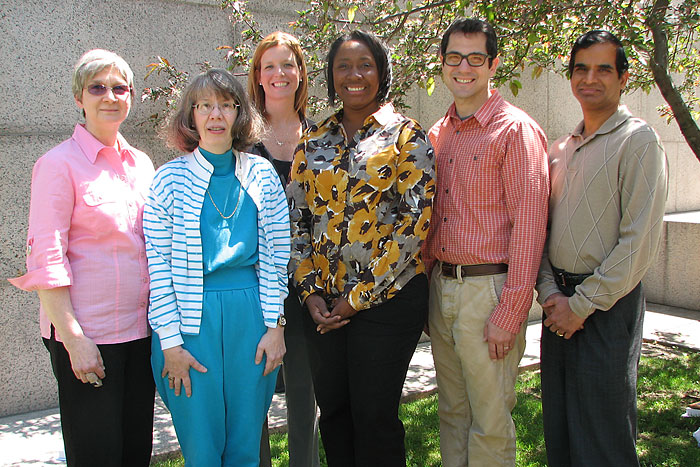 Left to right: Phyllis Poznik, Stella Andreoletti, Kristen Rotolo, Lillian Crawford, Jeff Moreci, and Raghurama Reddy
On April 30, faculty, staff and administrators gathered in the Mellon Institute to honor MCS staff members for their dedication and service to the Mellon College of Science.
Merit Award: Stella Andreoletti
Stella Andreoletti, student programs officer for the Department of Mathematical Sciences, received the Merit Award and was recognized for her 40 years of service to the Mellon College of Science. She was nominated for the Merit Award for maintaining an outstanding job performance level and consistently making significant contributions to the department. Stella's nominators describe her as amazingly effective and an invaluable member of the department. She manages the entire graduate student admissions process from the first inquiry to arranging campus visits for prospective students, and "the students simply adore her," wrote one of her nominators. And all of her nominators concur: "It is difficult to imagine the department without her."
Rookie Award: Lillian Crawford
Lillian Crawford, a laboratory technician in the Department of Chemistry, received the MCS Rookie Award. While providing support for the operation of the three large undergraduate labs, which see several hundred students each year and house several thousand different chemicals, Lillian's attention to detail, strong organizational skills and willingness to learn new things have made her instrumental to the success of the lab's instructional team as well as the students. "Her youthful enthusiasm and friendly attitude toward our students and faculty alike have been infectious," wrote one of her nominators. 
Special Award: Kristen Rotolo
Kristen Rotolo, pre-award administrator in the Office of Sponsored Programs, received the Special Award, which recognizes a person outside of the college for the service they have given to MCS. Kristen frequently works with MCS faculty and business managers, often under stressful grant proposal submission deadlines. She shows remarkable grace under pressure, remaining patient, courteous, and helpful. "Kristen is a vital cog in the grant proposal submission process. Her knowledge, availability and dedication to her job are extraordinary," said Business Manager Tim Sager, who nominated Kristen for the award.
Outstanding Achievement Awards
The Outstanding Achievement Awards recognize MCS staff members for their substantial achievement and outstanding job performance. This year multiple awards were given out within the college:
Biological Sciences: Phyllis Poznik
Phyllis Poznik, research associate in the Department of Biological Sciences, orders and organizes the supplies and much of the equipment for the biology teaching labs, and she is always prepared, anticipating the needs of the lab and having chemical solutions and supplies at the ready. "Her knowledge is an incredible help and is critical to our lab courses. The success and quality of our classes could not be maintained without Phyllis's talent and expertise," said Teaching Professor Carrie Doonan, who nominated Phyllis for the award.
Physics: Hilary Homer
As the student program coordinator in the Department of Physics, Hilary Homer keeps all student records, arranges student events, schedules classes, coordinates all aspects of graduate student admissions and generally answers a constant barrage of questions from students and faculty. According to her nominators, she handles it all with seeming ease, drawing on her work ethic, attention to detail and broad knowledge base to get the job done.
Mathematical Sciences: Jeff Moreci
Jeff Moreci, business manager for the Department of Mathematical Sciences, is "unfailingly cheerful, positive and optimistic and has a great 'can-do' attitude that positively impacts everyone who comes into contact with him," wrote one of his nominators. Jeff most notably revamped the department's accounting systems, and he also efficiently and effectively handles complicated budget and reimbursement issues and navigates the grant submission process, demonstrating his dedication and commitment to his work.
Pittsburgh Supercomputing Center: Raghurama Reddy
Raghurama Reddy is a key member of the PSC's Strategic Applications Group. According to his nominators, his careful analysis of applications and system performance contributes greatly to PSC's ongoing leadership as a supercomputing center. His "unfailing attention to detail, persistence and positive attitude have been consistent sources of inspiration to me, as they have to Raghu's other coworkers," wrote Nick Nystrom, Director of Strategic Applications for PSC, in a letter nominating Reddy for the award.