Thursday, May 6, 2010
Mellon College of Science Students Earn Education and Research Awards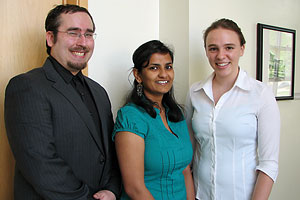 From left: Sam Rauhala, Sonal Shruti and Cameron Exner.
The Mellon College of Science's (MCS) awards for education and research were presented during the college's annual faculty meeting on May 3. Winners included Tristan Bereau, Cameron Exner, Rupal Gupta, Sam Rauhala and Sonal Shruti.
Cameron Exner
received the Dr. J. Paul Fugassi and Linda E. Monteverde Award, which is presented to a graduating female senior with the greatest academic achievement and professional promise. Exner, a world traveler who is fluent in Hindi and conversant in Spanish and Japanese, is a Science and Humanities Scholar and a senior Biological Sciences major who has pursued options in cell biology and developmental biology and a minor in chemistry. She has excelled inside and outside of the classroom. For two summers, Exner conducted research at the Maize Virology Lab at the Ohio Agricultural Research and Development Center in Wooster, Ohio, investigating the mechanism by which the bacterial corn pathogen
Pantoea stewartii
persists. At Carnegie Mellon, Exner worked in Assistant Professor Veronica Hinman's laboratory to determine how the SM50 gene pathway gets activated in sea urchin embryos, allowing sea urchins to form a skeleton. According to Hinman, Exner's "tenacity and problem-solving abilities" make her one of the very best students who has worked in her lab. Exner will graduate with university and MCS honors, and she will begin graduate school at the University of California at Berkeley this fall.
Sam Rauhala
, a graduate student in the Department of Physics, received the Hugh D. Young Graduate Teaching Award, which recognizes effective teaching by graduate students. Rauhala has been a teaching assistant in the department's introductory physics classes for five semesters, and where he always puts in extra effort to determine what the students' problems are and devises means to help them. In their nomination letters, his students praised his enthusiasm, easy-going personality and the clarity of his explanations. "In all honesty I have never seen someone lead a recitation with such enthusiasm and character," wrote one student. Another commented: "As a Biology major with little to no interest in Physics, he was actually able to motivate me to pay attention in recitation." Rauhala is also known for doing whatever it takes to help students succeed. He meets with students on weekends, and is always willing to put in extra office hours. As one student noted, "Sam really took the time to make sure I understood the material, and would not stop until he found a way to help me, even if he had to try different approaches for an hour until I finally got it."
The Guy C. Berry Graduate Research Award, which recognizes excellence in research by MCS graduate students, was presented to
Sonal Shruti
. A Ph.D. candidate in the Department of Biological Sciences, Shruti is investigating the biological underpinnings of epilepsy. She is specifically interested in understanding how seizures beget seizures – in other words, how epilepsy begins. Using highly interdisciplinary research approaches, involving physiological, molecular, cell biological and imaging techniques, Shruti discovered that a single seizure can alter the function of an ion channel called the BK channel, which becomes abnormally active after a seizure. This abnormal activity might underlie the transition between a single seizure and the emergence of epilepsy, which is characterized by recurrent seizures. Shruti also found that BK channel antagonists could normalize this aberrant firing, indicating that BK channels may be a new anticonvulsant target for a variety of seizure disorders, and offer new hope to individuals suffering from epilepsy. "I am very extremely proud of what she has accomplished, and I believe that [Sonal's most recent] work is some of the most exciting yet to come out of my laboratory," wrote Shruti's research advisor Alison Barth.
Graduate students
Tristan Bereau
and
Rupal Gupta
were recognized for receiving the Astrid and Bruce McWilliams Graduate Fellowship. To read more about Bereau and Gupta, please visit:
http://www.cmu.edu/mcs/news/pressreleases/2010/new-mcwilliams-fellows-named.html
By: Amy Pavlak