Monday, May 3, 2010
Bill Hrusa Wins Barbara Lazarus Award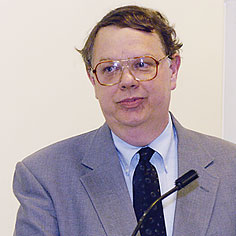 At the university's Celebration of Teaching ceremony on April 21, Mathematical Sciences Professor Bill Hrusa received the 2010 Barbara Lazarus Award for fostering a welcoming and nurturing environment for graduate students and young faculty at Carnegie Mellon. Since he joined the Department of Mathematical Sciences in 1982, Hrusa has not only guided multitudes of graduate students through the rigors of graduate life—advising them on course selection, monitoring their research progress, and offering job-hunting advice—but he has also created a climate in the department that emphasizes the success of every student who is admitted.  His truly remarkable memory for the details of each student's educational experience makes the "students feel really cared for," said Department Head Roy Nicolaides.
Hrusa serves as the department's director of graduate studies and chairman of the graduate student admissions committee. In this capacity, he begins interacting with individual students before they are admitted to the program, and he follows their careers from the very beginning. "I feel thoroughly convinced that Bill is one of my biggest supporters in the world of graduate school," wrote a student in a letter supporting Hrusa's nomination.
Another current graduate student wrote: "As I sat down to write this letter, I first researched Barbara Lazarus. And I now know her to be a remarkable woman whose work I admire tremendously. I sincerely believe that Dr. Hrusa carries on her spirit in championing equality and creating a nurturing and welcoming environment at Carnegie Mellon for graduate students and junior faculty and everyone he meets. Certainly he has done all he could to provide such an environment to me, and I sincerely believe that whatever success I have had here can partially be attributed to his extraordinary influence."
Students and colleagues noted that Hrusa is very gracious with his time and energy, offering advice and support that have been instrumental to their successes at Carnegie Mellon and beyond. "I think of Bill as being the heart of the department. He spends a significant number of hours spreading his knowledge, advice and insight in such a natural and non-imposing way, making people feel welcome and part of a bigger community," said Daniela Mihai, assistant teaching professor.
In addition to being a trusted mentor, Hrusa is also an award-winning teacher. In 1985 he received the Mellon College of Science (MCS) Julius Ashkin Award and the university's Ryan Award, and in 2006 he received the MCS Richard Moore Award.
Associate Department Head John Mackey sums-up Hrusa's impact as a teacher and a mentor. "I cannot imagine what the Department of Mathematics would be without Bill Hrusa. He spends most of his waking life helping other people by teaching, mentoring and advising, and he is superb at it."
By: Amy Pavlak