Thursday, April 22, 2010
Gelbart to Give Buhl Lecture, "Viruses from Scratch," April 28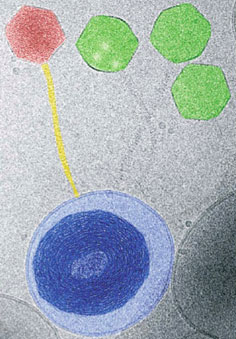 PITTSBURGH - William M. Gelbart, a leader in biophysical virus research, will deliver Carnegie Mellon University's annual Buhl Lecture, titled "Viruses From Scratch," at 4:30 p.m., Wednesday, April 28 in the Mellon Institute Auditorium, 4400 Fifth Ave., Oakland. The lecture is free and open to the public and will be followed by a reception in the Mellon Institute lobby.    
Viruses are some of the most prevalent and deadly disease agents, causing diseases like influenza, hepatitis and AIDS. However, the physical structure of a virus is considered to be one of the most beautiful, symmetric and astonishing structures found in biology.
Gelbart, who is a distinguished professor of chemistry and biochemistry at the University of California, Los Angeles, began his scientific career in the mid-1970s. He became a pioneer in the field of complex fluids, making significant contributions to the fundamental theory of liquid crystals, self-assembling systems, polymer solutions, nanoparticles and biological membranes. In the last decade, Gelbart became intrigued by viruses, and set out to try to understand how they infect their host organisms.  To do this, he and his colleague, Charles M. Knobler, decided to investigate viruses outside of their hosts, making simple viruses "from scratch," which they isolated in test tubes. This method allowed Gelbart and his colleagues to study the physical properties of viruses, focusing on their common traits; results of such work could provide new targets for disease prevention and treatment. 
Gelbart's interdisciplinary research has been recognized with many awards, including the 1991 Lennard-Jones Medal of the British Royal Society, a 1998 Guggenheim Fellowship, the 2001 Liquids Prize of the American Chemical Society, and election to the American Academy of Arts and Sciences in 2009.  He is a longtime faculty member at UCLA, where he has won the University Distinguished Teaching Award, and served as chair of the Chemistry and Biochemistry departments.
The Buhl Lecture is sponsored by Carnegie Mellon's Department of Physics.  The lecture is funded under the auspices of the Buhl Professorship in Theoretical Physics, which was established at Carnegie Mellon in 1961 by The Buhl Foundation.
###
Media Contact:
Jocelyn Duffy
jhduffy@andrew.cmu.edu
412-268-9982
By: Jocelyn Duffy