Monday, April 12, 2010
Catalina Achim and Richard Holman Win Mellon College of Science Awards for Education
Catalina Achim and Richard Holman — winners of this year's Mellon College of Science awards for education — will be recognized at the University Celebration of Teaching ceremony on April 21. Their accomplishments will be further celebrated at the Mellon College of Science annual meeting on May 3.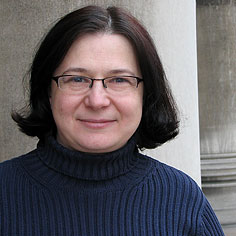 Associate Professor of Chemistry Catalina Achim has been described by her students as a "professor that truly believes in her students, that keeps saying, 'You guys can do anything.'" Achim, this year's winner of the Julius Ashkin Award for Excellence in Teaching, is a leader in developing innovative and creative curricular approaches, including the novel Art and Science of Color course that she developed with Art Associate Professor Clayton Merrell. "She is an innovative, generous and demanding teacher, giving all of her attention and energy to the class, and requiring the same of each student," said Merrell. Achim teaches a variety of courses in the Department of Chemistry, from the special topics course Transition Metal Chemistry for introductory level graduate students and upper level undergraduates to a core sophomore level-course in inorganic chemistry. The courses she teaches are tough and challenging, according to her students, but from the start "it was immediately evident that she truly wanted her students to learn and succeed," said a former student. Her ability to break down complex concepts into more readily understandable steps has garnered her respect from her students and her peers. "Professor Achim is extraordinary at teaching one how to think as a scientist," noted a current student. Outside of the classroom, undergraduates who have worked in Achim's laboratory have found in her a valuable mentor who not only explains concepts in clear and accessible ways, but also sets high expectations and inspires her students to reach or exceed them.
The Julius Ashkin Award is presented to a faculty member who has shown unusual devotion and effectiveness in teaching undergraduate students.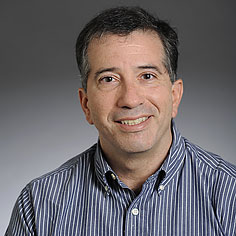 Richard Holman, professor of physics, received The Richard Moore Award for his "substantial and sustained contributions to the educational mission of MCS." In his 22 years at Carnegie Mellon, Holman has taught more than 20 different courses, including developing an entire sequence of courses in astrophysics when he was asked to develop only one. In addition, he voluntarily provides full semester independent study courses for the many undergraduates who ask him, even if the topic is outside of his research field of particle physics theory. "It is his constant dedication to a better understanding of physics both for himself and his students that has had a profound impact on my education and my own dedication to understanding the physical world," wrote a former student in support of Holman's nomination.  His students, whether undergraduates, high school students or K-12 teachers, can't say enough about his engaging and entertaining lectures: "Watching Professor Holman lecture is an experience like no other. His unique brand of wisdom and humor livens up any lecture." Perhaps his most enduring contribution is the profound and lasting influence he has had on his students. Many of his former students point to the rigor and depth of what they learned in Holman's classes as being critical for their success in upper level courses and even in graduate school. "He helped me grow as a physicist, even when I was no longer a student in his class," wrote a former student in a letter supporting Holman's nomination. She added, "Rich Holman was one of the most formative professors I worked with at CMU."
The Richard Moore Award recognizes faculty members who have made substantial and sustained contributions to the educational mission of the college, particularly faculty members whose educational contributions to the college have extended over a substantial portion of their academic careers.
By: Amy Pavlak