Friday, April 2, 2010
Ellis Receives Graduate Student Service Award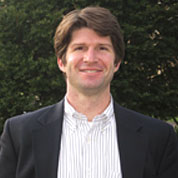 Chad Ellis, a Ph.D. candidate in the Chemistry Department who served as the 2009 Vice President of External Affairs for CMU's Graduate Student Assembly, is this year's recipient of the Graduate Student Service Award. He is being recognized for his service to his fellow students at Carnegie Mellon, and to his colleagues around Pittsburgh and the nation.

In a letter nominating Ellis for the award, Rea Freeland, associate dean of the Mellon College of Science and associate head of the Chemistry Department, said Ellis sets an "outstanding example" for how one graduate student can make an impact.

On the national level, Ellis has been a leader in helping to mitigate the visa problems that many international graduate students are facing today. He crafted an eloquent argument stating the case that international graduate students contribute to the United States' intellectual capacity, generating new ideas and new innovations that help the nation compete globally. He took his case to the U.S. Congress, where he met with legislators, including Representative Jason Altmire.

"Because Chad is a person of broad political interest and awareness, he was able not only to see visa struggles through the eyes of international student colleagues, but to organize arguments for their case professionally and persuasively," Freeland said. "This work represented Carnegie Mellon extremely well to our Congressional representatives."

Locally, he was out in front leading the fight against Pittsburgh's proposed tuition tax.

"He was the first student leader in Pittsburgh to start contacting city officials," said Daniel Jimenez, president of the University of Pittsburgh's Graduate & Professional Student Assembly. "Within a week he had galvanized the support of the CMU graduate students and the CMU undergraduate Student Senate, which quickly spread to every university in the city. Almost immediately following the mayor's announcement, he issued a survey of the graduate student population at CMU providing the first, most immediate, data on Pittsburgh students."

Freeland said the data that Ellis compiled "is an excellent example of using data to serve the needs of a large community of students who might otherwise have been misunderstood."

Freeland also praised Ellis for his commitment to the university community through his participation in Graduate Student Orientation, the Graduate Programs Office and the Eberly Center for Teaching Excellence. She also noted his involvement in the "Big Questions" program, which engages undergraduate students in structured discussions related to the meaning of life.

"In my 17 years of working with graduate students in many departments at Carnegie Mellon, including several past student leaders, I have never met anyone with such breadth of commitment to the Carnegie Mellon community in particular and to serving the broader society as a whole," Freeland said.
By: Carnegie Mellon News Blog