Tuesday, December 22, 2009
Alison Barth Receives Humboldt Foundation's Bessel Research Award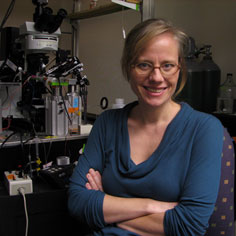 PITTSBURGH-Alison Barth, associate professor of biological sciences at Carnegie Mellon University, has received a Friedrich Wilhelm Bessel Research Award from Germany's Alexander von Humboldt Foundation. The award will allow Barth to spend seven months in Germany to work on research projects with neuroscientist Michael Brecht at the Bernstein Center for Computational Neuroscience in Berlin. 
The Bessel Research Award is given to internationally renowned scientists and scholars who have completed their doctorates less than 12 years ago and who are expected to continue to produce cutting-edge achievements that will have a seminal influence on their discipline beyond their immediate field of work.
Barth studies plasticity in neurons, specifically how experience transforms the properties of neurons to encode memory. She developed and patented the first tool to locate and characterize neurons activated by experience in a living animal - a transgenic mouse called the "fosGFP" mouse. The mice, which have been licensed to every major pharmaceutical company in the United States and distributed to more than 80 researchers worldwide, have facilitated research into a wide range of neurological diseases and in the study of learning and memory.
While at the Bernstein Center, Barth will transfer techniques currently used in her lab to isolate neural responses from individual cells in vivo. She will learn about whole-cell recordings obtained from neurons in the intact brain, a method used extensively by Brecht that allows researchers to measure currents across ion channels in the cellular membrane. The method has been proven to be extremely useful in understanding how excitable cells, like neurons, interact in a living system. Barth hopes to use this technique in her fosGFP mice in order to gain a better understanding of how single neurons encode information in the cerebral cortex, the part of the brain responsible for sensory perception and higher cognitive functions such as planning, reasoning and language.
Every year, through a variety of awards, the Alexander von Humboldt Foundation enables more than 1,900 international researchers to spend time working in Germany. The foundation maintains a network of more than 23,000 Humboldtians from all disciplines in 130 countries worldwide, including 43 Nobel Prize winners.
###
About Carnegie Mellon: Carnegie Mellon (www.cmu.edu) is a private, internationally ranked research university with programs in areas ranging from science, technology and business, to public policy, the humanities and the fine arts. More than 11,000 students in the university's seven schools and colleges benefit from a small student-to-faculty ratio and an education characterized by its focus on creating and implementing solutions for real problems, interdisciplinary collaboration and innovation. A global university, Carnegie Mellon's main campus in the United States is in Pittsburgh, Pa. It has campuses in California's Silicon Valley and Qatar, and programs in Asia, Australia and Europe. The university is in the midst of a $1 billion fundraising campaign, titled "Inspire Innovation: The Campaign for Carnegie Mellon University," which aims to build its endowment, support faculty, students and innovative research, and enhance the physical campus with equipment and facility improvements.
By: Jocelyn Duffy