Wednesday, May 20, 2009
Natalie Weir Receives 2009 Judith A. Resnik Award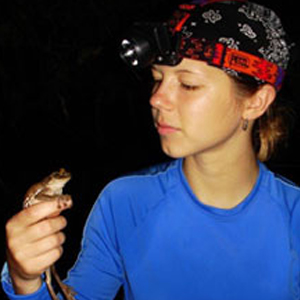 Natalie Weir holding a lowland tropical frog in Peru. (photo courtesy of Natalie Weir)
Natalie Weir, a 2009 graduate with a B.S. and M.S. in chemistry, received the 2009 Judith Resnik Award during commencement weekend. The award is presented annually to an outstanding woman graduating in the sciences or engineering who plans to attend graduate school and whose academic performance, creativity and vision illustrates potential for high academic achievement in her field.
"Ever since I first met Natalie I have been amazed at her intellect as translated into excellent course performance and outstanding research and at her energy, which drives her to make the absolute most of every moment," said Karen Stump, teaching professor, director of Undergraduate Studies and director of Laboratories, and Weir's advisor. "She has outstanding potential to be a leader within the scientific community."
Weir will be attending the Ph.D. program in Pharmaceutical Sciences at the University of North Carolina, Chapel Hill, in the Division of Medicinal Chemistry and Natural Products. Her interest in producing medicines inspired by nature was sparked by field research she conducted in the tropical rainforest. In 2004, she traveled to Costa Rica to study tropical ecology with Duke University's Talent Identification Program, during which time she became interested in learning how native tribes used the resources of the forest to meet their medicinal needs. Three years later, she traveled to Peru to conduct a study of lowland tropical frogs with herpetologist Tiffany Doan, associate professor at Central Connecticut State University, and to Trinidad a year after that to collect specimens of Shreve's Lightbulb Lizard (Riama shrevei) for phylogeographical analysis.
Weir also gained significant laboratory experience working with Biological Sciences Professor Chien Ho at Carnegie Mellon. Her research focused on how the chemical structure of hemoglobin relates to its biological function, which is an important step toward designing a hemoglobin-based blood substitute. Specifically, Weir has been investigating the impact of specific mutations in the distal heme pocket on hemoglobin's oxygen binding capability. She has measured oxygen affinity, Bohr Effect, cooperativity of the oxygenation process, and the rate of auto-oxidation, all of which are key to engineering an effective blood substitute.
Weir presented this work at annual meetings of the Biophysical Society, once during a poster session in 2008 and another time as platform speaker for the Heme Proteins Platform Session this past March. She also presented a poster at the 16th annual American Heart Association (Allegheny Division) Research Fellows Day at Allegheny General Hospital in 2008, where she won the top poster prize among a field of medical fellows and junior faculty.
Weir was selected as a Howard Hughes Medical Institute Scholar and Beckman Scholar and has been inducted into the Phi Beta Kappa, Phi Kappa Phi, and Sigma Xi honor societies. Outside of the lab, she rowed for the Carnegie Mellon crew team for four years. Highlights from her crew career include a silver medal finish at USRowing's Club Nationals in 2008 and a bronze medal at the Dad Vail regatta in May 2009. She has also served as a Highland Ambassador, a select group of Carnegie Mellon students who host important university guests and participate in a wide array of university and alumni events.
The Judith A. Resnik Award honors Carnegie Mellon alumna and space shuttle Challenger astronaut Dr. Judith A. Resnik. Recipients receive an award of $1,000, a certificate of recognition, and their names are added to Carnegie Mellon's Judith A. Resnik Award Recipient plaque in the University Center.
By: Amy Pavlak