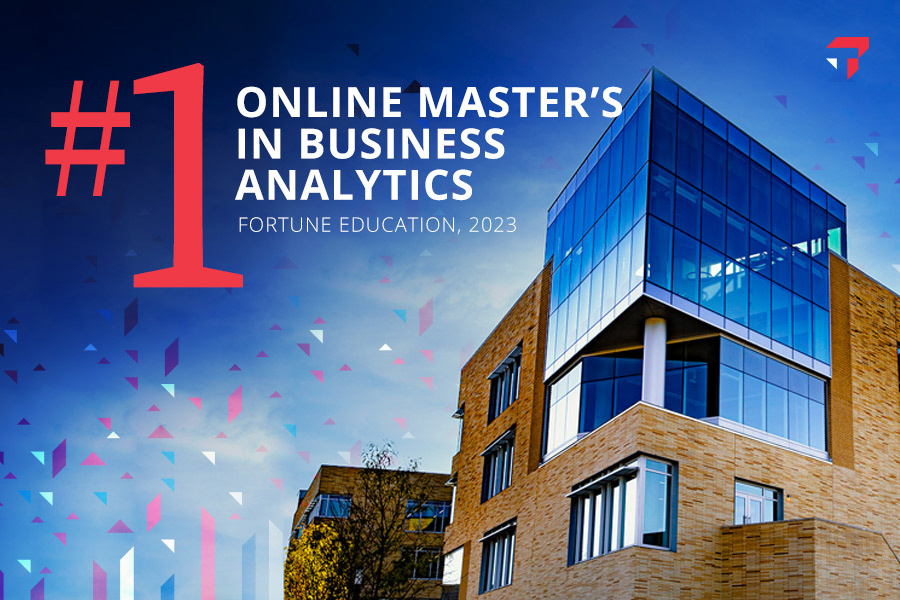 January 30, 2023
Fortune Ranks Tepper School No. 1 for Online Master's in Business Analytics
The Tepper School of Business Online Master's in Business Analytics program ranks No. 1 in the Fortune Education 2023 Best Business Schools rankings.
Recognizing the growing demand for business analysis as a top skill required for future data jobs, Fortune sought to identify the best online programs that are preparing the next generation of business analysts. Out of the 16 business analytics graduate degree programs Fortune examined, Carnegie Mellon University's Tepper School of Business program ranked No. 1.
"Our students use their passion for data to solve complex business problems," said Kevin Dietrick, Director of the Tepper School's Master of Science in Business Analytics (MSBA). "We are pleased that Fortune has recognized our program to prepare future business analysts at the highest level."
About the MS in Business Analytics Program
The part-time, online MSBA degree is a 20-month program designed for working professionals with varying levels of work experience. It provides students with the deep analytical skills, business knowledge, and creative problem-solving expertise needed to transform data efficiently and effectively into better decision-making and a competitive advantage for their organization.
The program also positions learners for career advancement by developing their leadership and communication skills with support from one-on-one coaching. While it is offered online, the program includes value-added, on-campus experiences for students.
The Tepper School also offers an in-person, 9-month, full-time MSBA degree on Carnegie Mellon's campus in Pittsburgh, PA.
The Methodology
Fortune considered the following categories for its ranking:
Selectivity Score (65%), which includes the average undergraduate GPA of incoming students, the number of years of work experience, and the program's acceptance rate.
Brand Score (20%), based on interviews with 2,500 business professionals and hiring managers and the school's attitudinal equity measurement.
Demand Score (15%), which measured the total enrollment size of the program and the number of applicants for the most recent year.
For more details about the ranking and its methodology, visit Fortune Education.
The second and third-place rankings went to Texas A&M University and the University of Texas – Dallas, respectively. 2023 is the second year that Fortune has ranked Online Master's in Business Analytics programs.