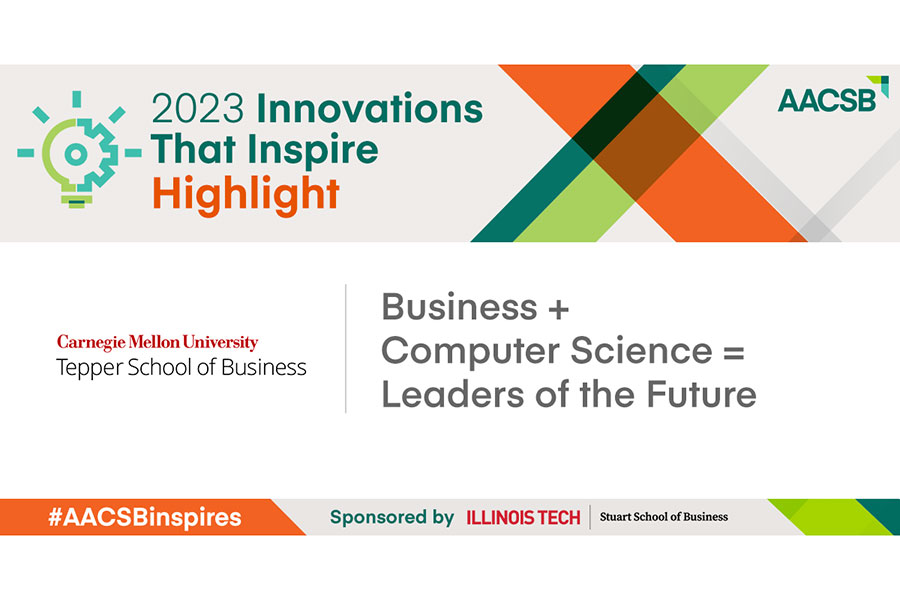 April 20, 2023
Tepper School Master's Program Named an Innovation that Inspires
The Association to Advance Collegiate Schools of Business (AACSB) International — the world's largest business education alliance — has selected Carnegie Mellon University's Tepper School of Business' Master of Science in Product Management (MSPM) degree for its Innovations That Inspire program.
This annual initiative recognizes institutions worldwide that are champions of change in the business education landscape. This year, the initiative highlights efforts by business schools to innovate in ways that enhance value for all stakeholders, including students, businesses, and society. These schools are defining new realities for the future of learning, leading, and connecting, paving the way to a reenergized value proposition for business education.
"New demands from stakeholders require reimagined business school initiatives, and the Tepper School's program demonstrates a fresh way forward for business education," says Caryn Beck-Dudley, AACSB president and CEO. "By leveraging innovation for knowledge co-creation, new methods of learning, and expanded educational access, business schools are meeting market expectations and increasing value for businesses, learners, and society."
Now in its eighth year, the Innovations That Inspire initiative has highlighted 214 business school efforts that exemplify forward-looking approaches to education, research, community engagement, entrepreneurship, leadership, and diversity and inclusion. This year, AACSB selected 25 programs from business schools around the world – with the Tepper's MSPM degree as one of the featured programs.
The Tepper School partnered with Carnegie Mellon University's School of Computer Science to create the innovative MSPM degree. At the time, there was no clear, direct path for aspiring product managers to acquire the technical, design, and business leadership needed in a variety of professions.
The one-year program is the only one of its kind and is focused on the four core skills necessary for excellence in product management: business principles, technology, user-centered design, and team leadership. The program combines classroom work with hands-on, experiential learning, giving students opportunities to solve real problems on behalf of leading companies such as Nike, Google, Honda, PNC, and Home Depot.
"Our mission is to be the business school for the intelligent future," said Isabelle Bajeux-Besnainou, Dean of the Tepper School. "Launching the MSPM degree was a natural outcome of the school's strengths, the university's approach to collaboration, and a way to meet a fast-growing need in the market. We are grateful that our efforts are being recognized."