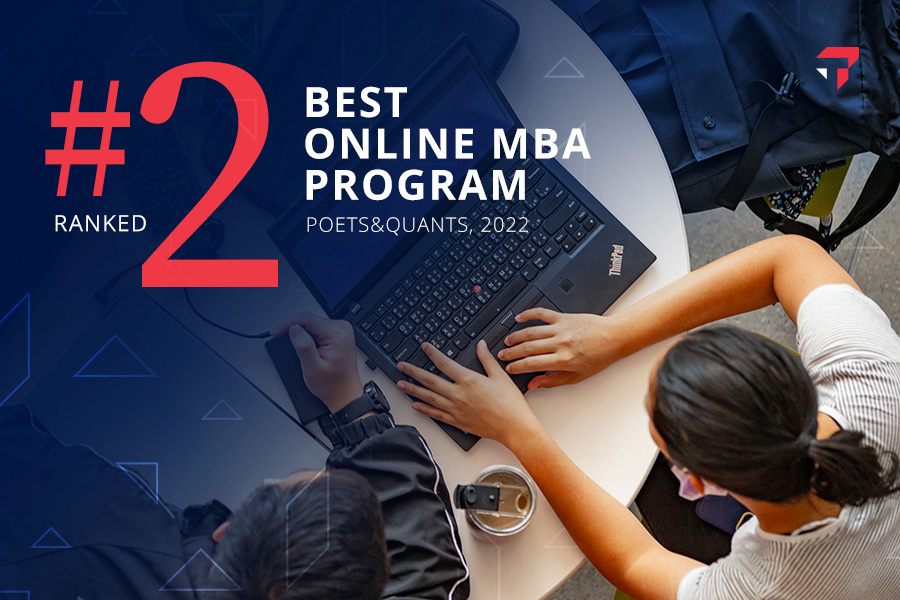 November 16, 2021
Poets&Quants Ranks Tepper School's Online MBA Program No. 2 in the Country
The Tepper School ranks in the top two for three consecutive years.
In its fifth annual ranking of online MBA programs, Poets&Quants, a leading online publication for business education news, announced that Carnegie Mellon University's (CMU) Tepper School of Business is ranked No. 2 among the country's top online MBA programs.
"We are proud to be earning the No. 2 ranking of online MBA programs," said Isabelle Bajeux-Besnainou, Dean of the Tepper School. "From the launch of our first online MBA course in fall 2013, we are pleased that our program is highly recognized for its high-quality education and experience."
The online MBA program at the Tepper School, featuring the same curriculum as the full-time MBA program, is designed to train students in analytics and leadership skills. A typical Tepper online MBA begins with core courses of business fundamentals such as finance, marketing, and operations.
Following the core courses, students customize their education by choosing a concentration in business technology, marketing, finance, operations, organizational behavior, or entrepreneurship. Students also have numerous elective options during the second half of the program. Classes take place over a six-week "mini semester," with the entire online MBA taking 32 months to complete.
"When developing our online MBA program, we sought to provide busy professionals the same advantages of our full-time MBA program — high-quality faculty, a rigorous curriculum, leadership development, and access to career services and networks that last a lifetime," said Cindy McCauley, Executive Director of Online Masters Programs at the Tepper School.
Poets&Quants' 2022 online MBA ranking is based on three factors:
The quality of the incoming students.
Program graduates' assessment of their MBA experience (including academic and extracurricular activities).
Career outcomes.
Data for the ranking was gathered from school and alumni surveys that included questions regarding admission standards, recent graduates' thoughts on whether the program fulfilled their expectations, and whether they would recommend it to others.
In addition to its inclusion in the 2022 Best Online MBA Programs, the Tepper School ranks